YOU HAVEN'T SEEN SYDNEY UNLESS YOU'VE SEEN IT FROM THE WATER
Our mission very simply is to help more people appreciate the joy of Sydney's waterways without the hassle and cost of ownership or the long term commitment of boat share.
Pacific Boating is the ultimate in boating club membership programmes. A simple, flexible concept where members pay a monthly subscription to enjoy a 13 strong fleet of Sea Ray luxury sports cruisers.
Your monthly membership works on a simple credit point system and grants you the complete experience. You'll be trained to drive our Sea Ray Sports Cruisers, the fleet is ready to go and the service is completely maintained and insured by us. Boating has never been easier or more flexible.
Our team
Our Pacific Boating Team has a strong combination of boating experience and a dedication to customer service to ensure all members have many memorable experiences out on the water across all locations. Our team of sales professionals, fleet managers, cleaners, trainers, mechanics are there to enhance your walk on walk off experience at every location.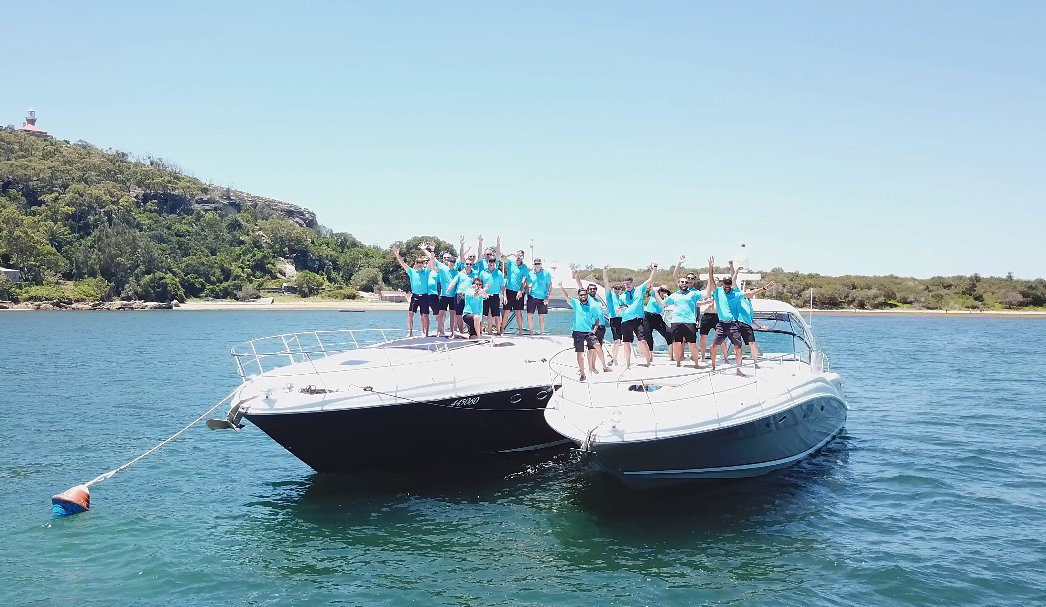 Our Senior Management Team
Phillip Pitt
Managing Director
Phil has been involved in and has had a passion for the boating industry for 50 years. He set up Pacific Boating in 2006 after 25 years in corporate sales, marketing and general management positions. "I am proud to say that Pacific Boating is now the largest and fastest growing business of its type in Australia and I have a great team around me to ensure we give you the ultimate boating experience.
Adam Price
Sales Manager/Director
With a passion for all recreational activities in, on and around the water, Adam has spent a great deal of his life by the ocean. A Software Engineer by trade and a background in the service industry, the 'sea change' from IT to boating was made and a natural fit found. Having been involved in the boating industry for thirteen years he has been with Pacific Boating since its inception and has played a key role in the growth and development of the business, seeing many happy members enjoy Pacific Boating's blue ribbon service.
Mike Hammond
Finance Manager
Mike is originally from England, a proud Yorkshireman very happily settled in Sydney for the last 6 years.
A former Professional Golfer turned Management Accountant, Mike was completely new to boating when he joined the Company in 2016.
"If I'm honest I had a bit of a fear of boating prior to moving to Sydney but the Harbour City converted me & I couldn't be happier working for Pacific Boating. It's a great company to work for & as someone who had no experience with boats I can't imagine there is a better way for anyone wanting to get out on Sydney's beautiful waterways without the high cost & commitment of owning & maintaining their own boat".
Sean Pilkington
Training Manager
I grew up on Pittwater and the Lower Hawkesbury/Cowan Waters working for my parents who owned a charter boat company at Palm Beach. I spent my childhood and youth sailing , surfing and boating . I worked in restaurant management for a number of years before heading to Zimbabwe and Zambia where I ran and then bought a white water rafting company on the Zambezi River. I spent over four years working on the Zambezi where I became the safety officer for commercial rafting and river boarding on the river. When I returned from Africa I attended Sea School International where I obtained my GPH and also did the theory side of a coxswains ticket.
I started work at Pacific Boating in 2015 as a fleet manager and moved into my Role as Training Manager in 2017. Since taking on this role I have enhanced the training programmes for the members and introduced a train the trainer programme for our trainers to ensure our members receive the best guidance and are confident and competent in all areas of boat handling.
Enjoy the freedom of cruising without the stress of owning a boat.
Find out how it works
FIND OUT NOW
Join Sydney's premier boating club and enhance your lifestyle