If you're like me and have never journeyed up to Church Point, let me tell you that you're missing out. I get it, we are spoilt for choice here in Sydney with crystal clear waters in pretty much every direction and Sydney Harbour is often the obvious choice.
When I was invited to go out and spend the afternoon at Pacific Boating's very own Quays Marina, I knew that the backdrop would not disappoint, it's the northern beaches after all. What I wasn't expecting was a vibrant maritime hub tucked away in a sleepy seaside suburb.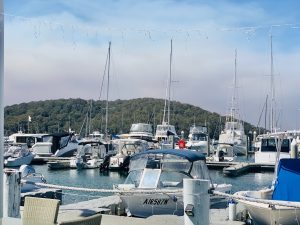 With the café buzzing and the marina at 100% capacity, it's hard to imagine Quays as its original 1940's structure built by stolen fence palings from around the area. While the laidback vibe of the Northern Beaches is ever present, the Quays Marina has its own energy cultivated by both its loyal customers and passionate team lead by the one and only Stephen Hosking, who was my tour guide for the afternoon.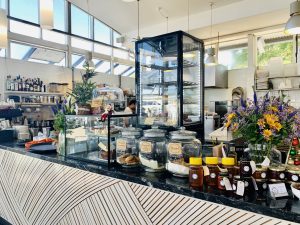 Since joining the Quays family 2012, Stephen has been working alongside owner Richard White to create a space that feels like home. As he puts it 'running a marina is like baking a sophisticated cake, you have to have all the ingredients right or it won't rise'. For Stephen this translates to the perfect balance of refined amenities, keen attitude and an all-inclusive offering.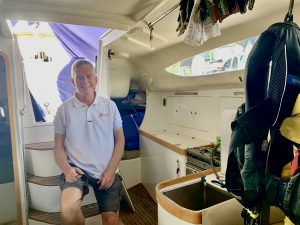 If I'm being totally honest, I wasn't expecting much in terms of the café. They are boat people right, what do they know about coffee? Turns out a lot. The newly refurbished café operates independently from the marina itself meaning that the chef is a chef and the barista is a barista. While still very much a part of The Quays team, allowing experienced hospitality staff to take control means that you can enjoy fresh, tasty snacks while overlooking the marina in all its glory. The open plan layout and floor to ceiling windows make for the perfect spot to enjoy Sunday brekkie (if you can find a table). I hear chef Jono's omelette is the stuff dreams are made of!
As we made our way down the docks on a classic 40+ degree Sydney day, I began to understand that The Quays is so much more than a place for people to moor their boats. Sure, this is the foundation of the marina, but the site also houses what Stephen calls a one stop shop for their members, a 'marine theme park' as he says. The service list reflects the diverse skill set of their team. From painters to electricians to detailers, all are on site under the Q service offering.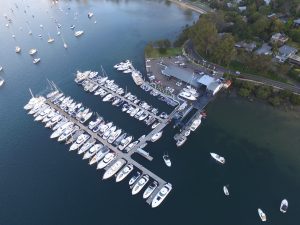 After spending a few hours with Stephen and the team, it's pretty clear that the heartbeat of the Quays Marina is the sense of family that oozes from it. To say that they look after their own is beyond an understatement. For everyone at The Quays this is not a 9-5 gig that starts and ends with boats. Many joined the family as teenagers working part time and have gone on to become experts in their trade.
He educated me on the darker side of the Northern Beaches that often goes unseen, but not here. His dedication to local youth and providing services that deal with the very real mental health issues surrounding the industry are what makes The Quays so much more than a marina. I can't tell you the amount of times we stopped, and I was introduced to staff, members and locals who had just popped in to enjoy a coffee or say hi. The overriding sense of inclusivity that is felt across all facets of the marina is something that cannot be replicated.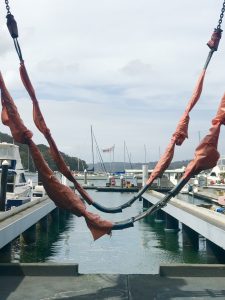 We finished the afternoon aboard the vessel which Stephen was preparing for his third Sydney to Hobart voyage. As he took me through a standard day out there for him and his crew that consists of 2 hour sleeping increments and severe weather conditions, it is clear his approach to life is mirrored in his dedication to his role at the marina.
As someone who walked in the door thinking this was just a place to park your boat, I left feeling envious of the passion and sense of belonging of those who call the Quays Marina their home away from home.