There are many options available to those who want to spend time out on the water without the expense and full commitment of owning your own vessel. Boat share, boat hire and drive, boat syndication and boat clubs are all options, each coming with their own pros and cons. Below we have tried to simplify the terminology for you and outline the benefits of each.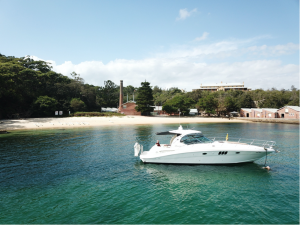 What is boat share or boat syndication?
In summary, boat share involves buying a share or multiple shares of a boat with a group of other people so it will be more affordable. It does however come with some of those same hassles associated with owning your own boat because you do actually own a part share of a vessel.
You may have also heard of the term boat syndication which is really only another term for boat share and will operate in exactly the same way.
Some people may opt to enter into a private agreement with friends or family while others may sign up to a recognised boat share or boat syndication company and buy in with other like minded boaties who may or may not know each other.
Considerations
A initial financial outlay equating to your share/s
Associated interest costs on finance if needed
Who are you sharing with? Will other shareholders look after the boat?
Access is divided amongst owners of one boat at one location
Opt in and out dependant on selling your share so not quite the most  flexible option
You will however get a return on your investment at the end of your contracted period as long as you can find a buyer.
PLUS annual costs that include
Maintenance costs (additional to monthly management fee)
Repairs (not covered by maintenance fee and servicing schedule)
Berthing, Servicing, Antifouling, Cleaning and Slipping charges
What is a boat club?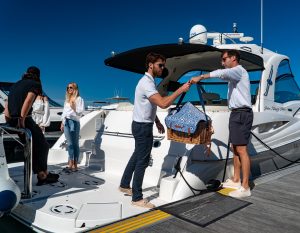 Pacific Boating works on a boat club model but there are other similar companies operating in Sydney and around the country.
Considerations
Simple monthly membership
No high initial financial outlay
No long term contracts or equity agreements
Set monthly fees
Ongoing additional cost of fuel only
Flexibility to access a fleet of boats at possibly multiple waterways
Walk on walk off service means no cleaning, maintenance, berthing
24hr support
Protected from possible damage caused by other members
No maintenance costs
You may experience less access than with boat share however planning in advance can minimise this issue
https://www.pacificboating.com.au/
What is Boat Hire/Rental /Charter?
Sometimes you are looking for a short term option or a one off boating holiday. This is where you might consider hire, charter or rental. It too comes with its pros and cons.
Limited choice for self drive (House boats or smaller boats or larger skippered charter vessels available)

Restrictions apply – boats are usually restricted to slower speeds of 8 knots and to specific waterways

Tend to be more for short term one off hires that are PAYG.
Which option is right for me? 
So everyone has slightly different needs and may prefer one option to another. It may also be that your needs change as your work, social and family needs change.
For those only wanting a very occasional trip out on the water or planning a special event, a self drive short term boat hire may be the most practical and affordable. A boat charter service may suit your needs for a larger scale event. There are many companies around offering day rates for self drive or skippered activities.
Purchasing a boat share or entering into a syndication agreement may be your preference. A  smaller group of 4 to 10 owners per vessel may increase the number of access days available per year. A smaller number of owners however will also increase your share of the cost to run the vessel annually. This is a cost benefit analysis you will need to determine based on the agreement you enter into.
Ongoing costs in boat share or boat syndication are variable because if there is a maintenance or repair  issue that is not covered in your service agreement the cost for repair will be shared by the owners and these costs are variable and can mount up.
Alternatively, a boat club has a fleet of boats. Sometimes, and in the case of Pacific Boating, from multiple locations which provides great flexibility. It is very much walk on walk off with the boat club working on service schedules, maintenance, mooring fees and cleaning to really take that ownership hassle away. It operates more like a golf club or gym where a monthly fee is charged regardless of boat usage with a minimum contract to be fulfilled before you can opt out. Ideal for those wanting to spend a minimum of 24 days out on the water in any given year and prepared to plan their boating adventures and enjoy Sydney's waterways all year round. All costs for repairs and servicing are covered by the company out of Membership revenue so your fee is set and therefore easy to budget.
Whatever your choice there really is nothing like experiencing the joy of Sydney's waterways by boat.