This year has been a tough one and as it draws to a close, it's time to take a step back and soak up the sunshine. There is nothing more calming than the sound of waves breaking and the fresh ocean air and here in Sydney we have both in abundance. Summer is finally here and what better way to say goodbye to 2020 than on our crystal-clear waters. Chill out and hit the pause button with our list of the most relaxing activities guaranteed to get you to the ultimate state of zen.
Image Credit: Reddit
Overnight on the Hawksbury River
We've all had those days out on the water that you never want to end, so don't. Grab your toothbrush and head up the Hawksbury for a weekend escape we all deserve. The world is your oyster at the Hawksbury with fishing, water sports and beaches all at your fingertips. If you're looking for a quiet spot to relax and unwind there is 120km's of uninterrupted water for you to choose from.
Beach Hopping at Spring Cove
While we all know and love the Northern Beaches, in the Summer months it can be difficult to find a secluded spot to take a minute with your friends and family and enjoy a nice glass of wine on the water… queue Spring Cove's three beaches: Collins, Store and Quarantine, which not only provide the perfect escape from the city without actually having to leave, but has been known to attract a Manly local – the fairy penguin. ts natural beauty is why Sydney is one the most exciting harbour cities and exceeds all expectations by blending three charming beaches into the perfect unwinding experience. Incorporating Collins Beach, Store Beach and Quarantine Beach, this natural enclave highlights the best of what Sydney has to offer through its simplistic natural beauty that is sure to relax even the busiest of people.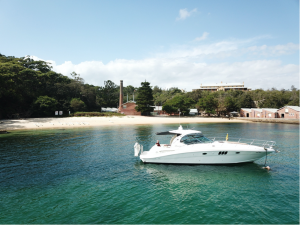 Image Credit: Darlingharbor.com
Catered Seafood Degustation at Cockle Bay
Thanks to our partnerships with some of Sydney's most iconic seafood restaurants we are so proud to offer this PB exclusive experience. Whether you're looking to celebrate a special event, or just the end of another week, do it in the height of luxury aboard your vessel. Enjoy your banquet dockside with a 360-degree view of the city or head out to your favourite spot with everything taken care of.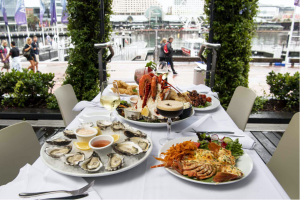 Image Credit: Concrete Playground
Long Lunch at Church Point
It's no secret how much we love Church Point. Not only is it one of our PB hubs, but its small coastal town feel is what keeps us going through the work week. There are so many amazing spots that showcase fresh, local produce that will satisfy anyone's taste buds. For us it's all about the seafood (surprise, surprise) and there is no shortage up the Northern Beaches. We can't tell you how many times lunch has turned into sunset drinks when dining at Church Point. With the champagne following and the crystal-clear waters glittering there is no better place to relax.

Image Credit: Glorious Difference
Sunset at Queens Avenue
Nothing brings us back down to earth like watching the sun go down on this amazing city. While there is no shortage of spots you can enjoy this daily event, there are some places that far surpass the rest and Queens Avenue Vaucluse is one of them. With 280-degree views of the city and Harbour Bridge you can sit back, relax and watch the buildings become silhouettes all from the comfort of your vessel. If you're over the standard dinner and a drink, leave the little ones at home and enjoy dusk on the Harbour for the ultimate date night spot.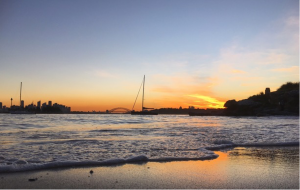 Image Credit: DMARGE
Relax and Drop a Line
In today's hectic world, there are very few things that allow you to completely switch off and relax. Even on the water it's easy to get distracted by emails, Facebook videos or Instagram. While there are so many exciting activities you can enjoy on the water, we challenge you to take it back to basics. Fishing is one of our favourite family friendly activities that will not only keep the kids occupied but can be enjoyed with a stubbie in hand or a glass of bubbly. Other than remembering to pack a line, there is very little effort required in catching a delicious feast (or at least have fun trying) for your guests while enjoying the scenic perfection that is Sydney's Waterways.
Recommended locations include Athol Bay, Bantry Bay, Castle Rock, Refuge Bay, Smith's Creek, The Basin, Morning Bay and Pinta Bay.