Earlier this year Pacific Boating were excited to host 3 Bathurst Champions on board. "Dressed to kill" and a slightly different and certainly a more relaxing mode of transport than they are used to, we share the story published about the 3 champions in October's Foxtel Magazine on the eve of the BIG race!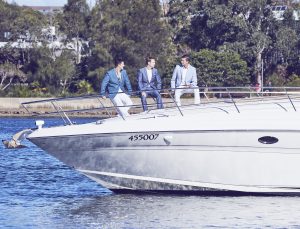 Chaz Mostert, David Reynolds and Jamie Whincup spoke about the upcoming race and their desire to make new memories on the track that holds special significance for them.
There's one competition on the Virgin Australia Supercars circuit that rules them all – the iconicBathurst 1000. Steeped in history, the race has made champions out of the likes of Peter Brock, Jim Richards, LarryPerkins, Mark Skaife and Craig Lowndes. Every October, tens of thousands of passionate Supercars fans descend on Mount Panorama, eager to witness firsthand who will be crowned 'King of the Mountain' at the climax of a gruelling1000km motorsport battle that lasts in excess of six hours.The Great Race is equally as impressive for those who compete – an endurance race like no other, it tests drivers while pushing them to their absolute limits.More challenging in the flesh than it appears on TV, the track features a number of sharp turns, the 1.9km Conrod Straight– the longest racing straight in Australia, on which cars can clock a cool 300km/h– and a total elevation of 174 metres. It's certainly not for the faint-hearted.But as the saying goes, no pain, no gain. And for the three Bathurst legends Foxtel magazine brought together for an extravagant photo shoot aboard one of Pacific Boating's $1.5 million luxury sports cruiser on Sydney Harbour – four-time winnerJamie Whincup, and Chaz Mostert and David Reynolds, who are each chasing win number two – it's worth every second of the blood, sweat and tears.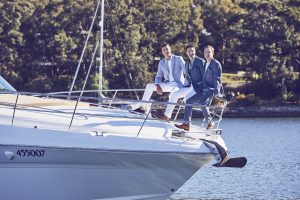 Chaz Mostert No. 55 Ford Mustang GT– Tickford Racing .The 27-year-old recalls the thrill of becoming King of the Mountain in 2014 and the pivotal role Lady Luck plays in any podium finish at Mount Panorama."As a little kid seeing Bathurst, it's something you could never dream of actually competing in."I've been very lucky that I had a win in 2014, so I got the monkey off my back, but the problem is that 12 months later, it feels like it lasts 30 seconds. You're onlyKing of the Mountain for 30 seconds and you'd die just to get another 30-second feeling like that. That race for us is the pinnacle in Australian motorsport andI'd love to try to win it again."The racetrack is one of the most difficult to get around. It's 1000km of racing and there are so many elements over six hours of competing. There have been such great fights there over the years."There are parts of the track that are very hard, but we have two long straights there as well, so while you don't breathe across the top of the mountain, you get a couple of breaths back on the straights.The mental intensity is probably the hardest thing; you have to be willing to fight for every inch out there and racing. Toe-to-toe for the amount of laps you do can wear you down."Bathurst is one of those races where you need a lot of luck to go your way.Year after year, it's not necessarily always the quickest car or the quickest driver that wins it. You do need Lady Luck on your side."There are some big changes this year.We don't have Sandown leading intoBathurst now [since it's been moved toNovember] – Bathurst is the first enduro and that's going to be really hard. But every year, the feeling you get there is just very special. It's just a great race."
VIRGIN AUSTRALIA SUPERCARS CHAMPIONSHIP: SUPERCHEAP AUTO BATHURST 1000LIVE from Sunday October 13 at 7.45am, race commences at 11.30am on FOX SPORTS
David Reynolds No. 9 Holden ZB Commodore– Erebus Motorsport The 34 – year old reflects on the thrill of winning Bathurst in 2017, the importance of his team and why it will mean so much to him seeing the checkered flag drop again this month."Everyone says the mountain chooses who it wants to win."The first time I competed [in 2007],I was like, 'What have I got myself into?'It's this huge mountain in front of you.Even though you watch it a lot, you still don't understand the level of complexity, the elevation change, the blindness of the corners – and how fast they areAs a young kid, it was very hard to get my head around that style of track."My biggest thrill has definitely been winning Bathurst [in 2017]. I had my engineer talking to me the whole time.He is the voice of God, the voice of reason. He was crying and couldn't believe it. You don't understand how much that race means to yourself and everyone else until you stand on the podium and look at your team and see nothing but smiles… [It's] an unbelievable feeling. It's the biggest team sport, without there being an emphasis on a team."I want to win Bathurst again. We probably should've won it again [in 2018].We led [most] of the race, but I got cramps and couldn't finish. I didn't care thatI couldn't walk for a week after that; it's more heartbreaking that I lost the biggest race of the year. But the good story from that year was Craig Lowndes winning[in his last full-time season]. He was the bloke behind me chasing me down and he ended up being the victor."I feel very grateful. I always think I've been very lucky that I live the life I do.I always have goals. If you don't have goals, you're not going forward, you're going backwards."
Jamie WhincupNo. 88 Holden ZB Commodore – TripleEight Race Engineering He may have four Bathurst titles to his name, but the 36-year-old seven-time Supercars Champion reveals his most memorable race at the Mount Panorama circuit is actually the one he lost – and he puts it down to the invaluable lesson it taught him."Bathurst is an unbelievable piece of road. To have a top-five racetrack herein Australia is very, very special. What makes Bathurst so unique is the natural flow combined with the terrain. It's such a hard race to win and such an easy race to lose, to be absolutely on the limit and just wring a 600-horsepower car to its neck for six hours. To make the end is hard work; to get there in front of everyone else is extremely difficult. It's the Holy Grail ofAustralian motorsport."My favourite Bathurst race is the oneI didn't win. I think it was 2014. Myself and Chaz Mostert started [at the back of the grid] after having issues in qualifying.I got to the front of the pack halfway through the day and had a tangle with another car coming out at the end of the main straight and went back to last.We were one-and-three-quarter laps down and somehow we fought our wayback to lead the race on the last lap but, unfortunately, I ran out of petrol with half a lap to go. Chaz won and I literally rolled across the finish line in fifth."Before that, the result was all that mattered. That race taught me that it's not about the result; it's about the effort. The effort on that day was unbelievable."This year will be challenging. Bathurst is a unique place, a unique race – anything can happen. I have a new teammate inCraig Lowndes. He won last year and he's very good on that track, so hopefully we can have a nice, clean run.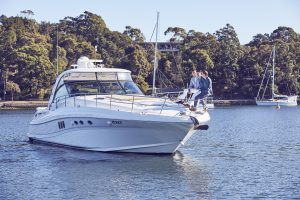 and of the great day on board cruising around Sydney Harbour with Pacific Boating…well it was a slower more relaxed pace than these champions were used to…the calm before this weekends storm!
Pacific Boating wishes the guys all the best!
Credits

Photographer – Simon Taylor

Styling – Rosie McKay

Grooming – Danielle Butcher

Creative Director – Michael Xuereb