Once a year, marine lovers gather on the Gold Coast for what can only be described as the Comic-Con of the sea. The Sanctuary Cove International Boat Show held at the end of May is just one of the Southern Hemisphere's premier marine events with over 300 exhibitors and 500 watercraft displays. From floating surfboards that make you feel like you're flying over water, to the world premiere of the Maritimo X50 sport motor yacht, 4 days just doesn't seem like enough. With The Sydney International Boat Show only weeks away where we are sure to find some fabulous product innovations to make our leisure time even more enjoyable on the waterways,  check out our highlights of the 2019 Sanctuary Cove International Boat Show and just some of the exciting products we found on display.
Fliteboard
Drawing inspiration from Marty McFly's Hoverboard in Back to the Future 2, the Fliteboard allows you to experience flying above water using the world's first 'unibody' Efoil propulsion system. If you're anything like us and have absolutely no idea what that actually means, it's essentially a rechargeable propeller that is connected to the board that lets glide across the water for up to 90 minutes. The Fliteboard can reach up to 45km/h using a handheld remote for intuitive control and doesn't rely on wind or waves to get you moving. Unleash your inner designer with a bunch of customisable options from finishes to performance specs to suit everyone from beginners to advanced users.
Like snowboarding or surfing, it's safe to say the Fliteboard would take some serious practice to master but the idea of flying across the water is worth a few wipe outs. If you're keen to taking it to the next level, why not join their Fliteschool program which offers 1.5 hour private and group lessons around the world.
For more info jump on their website https://fliteboard.com/ for videos, purchasing and Fliteschool locations.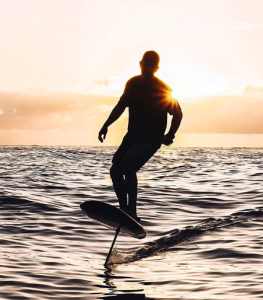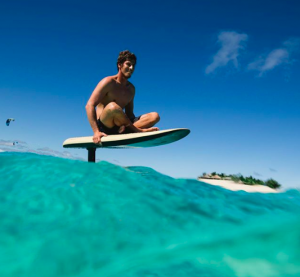 Red Paddle Co
We've all seen those people on the beach dragging their oversized paddleboards down into the water with the utmost difficulty. As you lie there with your margarita in hand your mind wanders to where they store them and how did they get it to the beach in the first place?
**Cue Red Paddle Co**
Yep, the team at Red Paddle Co have created the inflatable version of the world's most inconvenient recreational board that mirrors the durability of the real thing. Folding down to fit neatly into a backpack, you can take this bad boy anywhere. No more roof racks, no storage, no worries.
For more info on Red Paddle Co and their full list of products go to https://redpaddleco.com/en-au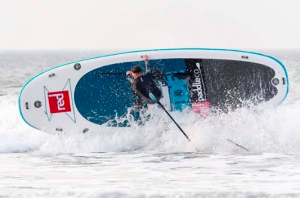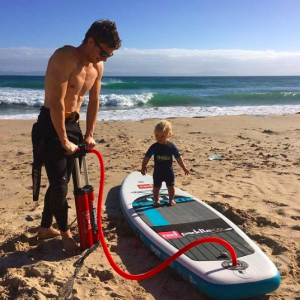 The Power Dolphin
The Power Dolphin is an amphibious photography device that lets you capture every moment both above and below the water. An extension of the drone family, it lets you simultaneously capture duel perspectives for the most insta-worthy content of your ocean adventures. For such a small device, we have to say it's pretty damn cool. Resembling a tiny submarine but moves more like a fish, it can alternate perspectives seamlessly making every second of film count. You can map out your journey and watch the whole thing unfold with real time 1080p transmission feed straight to your phone. All the usual features you would expect from an innovation like this are included like 4K UHD above and below the water and an impressive 2-hour battery life.
For those who care a little less about content creation and a little more about fishing, The Power Dolphin can act as your underwater eyes as it scans for fish and can even tow the fishhook and bait directly reaching a specified point. Is it just us or does the thought of always catching a fish make the idea of fishing much more appealing?
For more info on The Power Dolphin head to https://www.powervision.me/au/product/powerdolphin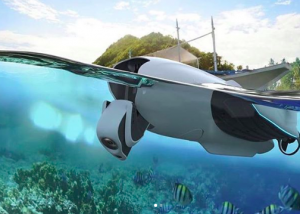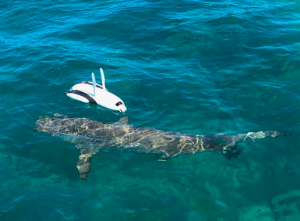 TowBoggan
The name says it all.
Fun for the whole family, the TowBoggan is a water mat that provides endless laughs for not only riders but spectators too. The genius is in its simplicity and is ready to go with no assembly required. Suitable for all ages, it can be towed by anything from a jet ski to a speedboat and can hold up to 6 people at a time.
For a product that is literally just a large floating mat, the possibilities are endless. Make up your own challenges or scroll through the product reviews for ideas on how to get the most use out it.
Either way have your camera ready to capture your friends and family in some pretty hilarious moments.
** Please read the WaterMat TowBoggan Owner's Manual carefully and follow all recommended safety guidelines
For more info on the TowBoggan go to https://www.airhead.com/