The sun is shining, the skies are blue and the good times keep on rolling as the Christmas and New Year period is left behind. Let's be honest, you cannot beat summertime in Sydney; some rain would be a welcome relief though! Fine days, clear waters and new year holidays means that boat lovers across the city are heading out on the water at every opportunity. While we are not ones to cramp anyone's style, the holiday season calls for some extra care out on the water with increased traffic and less experienced drivers making the most of our waterways.
As PB members we know you are pretty well versed in the do's and don'ts when heading out on the water but with the Marine Area Command upping patrols during the silly season we urge everyone to take extra caution.
In our usual safety-first manner, we have put together some tips and rules to keep you out of trouble and on the water all summer long.
Know where your gear is
Each of our vessels is equipped with the necessary safety gear for the number of people that the boat is licenced to carry. Before heading out, make sure that you have doubled checked that all of the gear is in the correct spots and that there is enough for everyone on board. Double check that everything is in working order in the case of an emergency. We recommend that all important numbers have been saved in a phone that is on board in case you are in a no reception area and need to contact us or the authorities. For non members of Pacific Boating and especially those who are hiring or chartering vessels over the school holidays be especially mindful of this. For Pacific Boating Members this will be covered in your pre cruise briefing.
With increased usage over the summer months of all of our cruisers, things inevitably get moved around so it's better to check before you head out to ensure the safety of everyone on board.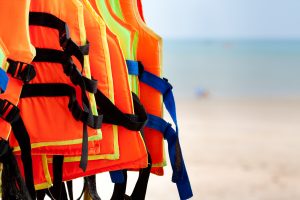 Have you serviced your inflatable lifejacket? Bring yours to a free clinic and learn how.
Pacific Boating does not use inflatable lifejackets but use PDF 1's. Inflatable lifejackets are easy to wear and comfortable but they require extra care and attention to ensure they will inflate in an emergency.
Did you know?
In NSW it is a legal requirement to service inflatable lifejackets every year or in accordance with manufacturer's instructions.
Most inflatable lifejackets can be self-serviced, depending on the manufacturer's guidelines
Penalties may apply if your lifejacket is found to not have been serviced as required.
Click on the link below for Maritime clinic dates and locations.
https://www.rms.nsw.gov.au/maritime/safety-rules/lifejacket-clinics.html
Know your limits
It would be a down right tragedy to head up the Hawksbury for a day of water sports and BBQing and not crack open an ice-cold beer as the onions are sizzling. With the festive season and warmer weather calling for serious hydration, it's easy to find yourself on the wrong side of the limit.
Yes, there is still a limit on the open water and sorry to break it to you but it's lower than driving a car. As our boats fall into the commercial vessel category, drivers must be under 0.02 (and 0.00 for under 18's) while operating the boat. As to be expected, Police are out in full force over the Summer, so chances are you will have more than one interaction with them over the holidays.
Random breath testing and random drug testing can be conducted on the operator of a vessel while it is underway, including drifting so make sure you are moored, berthed or at anchor until your skipper is under the limit.

Roads and Maritime Services classifies the operator of a vessel to be:
Anyone steering or exercising control over the course or direction of a vessel
The observer in a ski boat or personal watercraft
A person being towed by a vessel
A person supervising the operator of a vessel under 16 years of age.
For more information head to rms.nsw.gov.au/maritime/safety-rules/offences-penalties.html
Take it slow
We can appreciate that there is nothing better than being out in open water, the wind in your hair and experiencing the full power of our Sports Cruisers. And while there are areas which you can go full throttle, Sydney Harbour is not one of them.
Speeding fines are probably the most common thing we see over the Summer months and can be easily avoided by knowing your speed limits. With more boats out on the water, the likelihood of collision is significantly higher and at high speeds loss of control can easily occur.
Seems pretty simple right? You would be surprised by how many people get stopped from speeding by simply not taking note of the limit. For those that don't know them off by heart, here are some of the important ones;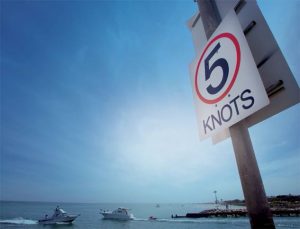 Middle Harbour (Roseville area) – 8 knots
North Harbour (Manly) – 4 knots
Manly Lagoon – 4 knots
Port Jackson – 4 knots
Sydney Harbour Bridge – 15 knots
Camp Cove – 4 knots
Port of Sydney – 8 knots
Darling Harbour – 4 knots
Rozelle & Blackwattle Bay – 4 knots
Sydney Cove – 8 knots
Pittwater – 8 knots
Bayview – 4 knots
Brooklyn (Hawksbury) – 4 knots
For the full list of speed limits within NSW head to https://www.rms.nsw.gov.au/documents/maritime/safety-rules/speed-limit-areas.pdf
No Wash Zones
Wash refers to the waves and turbulence created by a boat as it moves through the water. The size of a boat's wash and the effects it might have depend on how the boat is driven, its hull shape and how much load it is carrying.  There are a number of areas on Sydney waterways that require you to navigate the boat with no wash at all to protect the shore line and other vessels on moorings or at fixed marinas in the vicinity. These areas are clearly sign posted and it is important that you look for these signs and adhere to them at all times. It is not necessarily the speed you are travelling that creates the wash but a combination of speed and the trim of the vessel. So don't rely on your speed alone but keep an eye behind you to check how much wash you are creating
Crowded Waters
More boats on the water means less space for everyone to move around. It goes without saying that you should always keep a safe distance from other vessels especially in shallow waters or when anchored. In popular spots like the Northern Beaches, Summertime leaves limited space to anchor near shore and everyone is competing for prime real estate. Strong tides can push boats together and before you know it you're dealing with a collision instead of soaking up some rays.
Keep an eye out for ferries and larger boats also who lack manoeuvrability. They cannot move as quickly as you or respond to changes like you can, so give them some space to do their thing. Put it this way if you take on a ferry, you will lose…
With safety ticked off and 3 months of summer adventures to be had, make the most out of your membership and get planning! Where are you going next??
For more safety information and to download the Roads & Maritime Boating Handbook visit
https://www.rms.nsw.gov.au/documents/maritime/licence/boating-handbook.pdf