The holiday season is here again and as we finally get to say sayonara to 2020, it's fair to say we could all use a night of celebration. While this year hasn't panned out at all how we thought it would, things are slowly starting to get back to normal and what better way ring in the new year than by the water. From lavish, harbourside venues with prime positioning for the fireworks, to laidback beachside retreats, these are these our top pics for the ultimate NYE festivities by the water.
Watsons Bay Boutique Hotel
$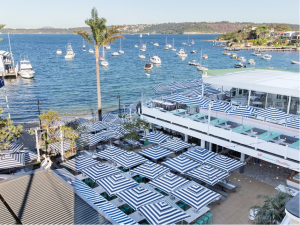 Image Credit – The Happiest Hour
Many of us missed out on vacations this year, and while having Sydney's iconic coastline at our disposal is a blessing, we all crave the beach club vibes of the pacific from time to time. Escape the city and head to the next best thing this NYE at the Watson Bay Boutique Hotel. Settle in amidst their signature blue and white umbrellas for a laidback beach experience with the added bonus of uninterrupted views of the city. For those looking to step things up, their luxe package features a 3-course dinner, free flowing choice beverages, dedicated waiters and entertainment throughout the night. Luxe seats include a spot in either their Sunset Room, or Mid & Top Deck spaces providing uninterrupted views of Sydney's skyline.
From $89 per person
(Luxe from $165 per person)
Bathers
$$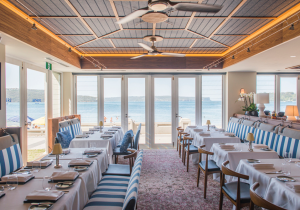 Image Credit – Broadsheet
Balmoral institution Bathers is definitely worth checking out this New Years. With views towards the heads and middle harbour, the heritage-listed building is the perfect backdrop for a laidback evening with great food and great company. If you're on the hunt for a family friendly location where the little ones can keep themselves occupied, Balmoral is the perfect place. With 3 different dining options across 2 sittings, no matter what your vibe or budget, there is a package for all. The first sitting from 5.30pm offers a three-course dinner, show and a cocktail on arrival and the late sitting from 8pm has everything listed above with the addition of an epic finale when the clock strikes midnight.
5:30pm sitting:
Bistro: 3 courses – $160 per person – kids 12 and under $120
Betel Leaf: 3 course banquet – $160 per person – kids 12 and under $120
Restaurant: 3 courses – $230 per person – kinds under 12 $180
8pm sitting:
Bistro: 3 courses – $250 per person – kids 12 and under $200
Betel Leaf: 3 course banquet – $200 per person- kids 12 and under $160
Betel Leaf Terrace: 3 course banquet – $250 – kids 12 and under $200
Restaurant: 5 courses – $390 per person – kids 12 and under $330
Manly Pavilion
$$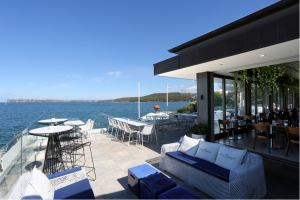 Image Credit – Manly Pavilion
Whoever said disco is dead is clearly misinformed. Dust off your dancing shoes and travel back in time with Manly Pavilion's Studio 54 extravaganza! If battling the crowds in the city is really not your style, then a groovy evening on the Northern Beaches is just what the doctor ordered. Watch the last sunset of 2020 at Manly Beach and dance the night away to songs that you actually know the name of. Guests can feast on a three-course dinner with five and a half hours of free-flowing drinks including beer, wine and bubbles with the option to upgrade to premium beverages and cocktails. No matter which package you chose, you can toast to the New Year with a complimentary glass of Moet on arrival.
From $295 per person
(Optional upgrade to $495)
O Bar, Sydney
$$$$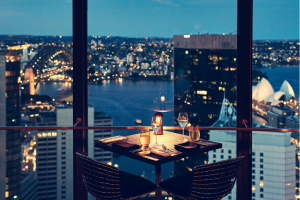 Image Credit – O Bar
First things first – the location. Sitting on the 47th floor of the Australian Square Tower on George Street, you can just imagine the views. For those who have ventured up to O Bar, you know that we could really just leave things here. The spectacular outlook is the major draw card for NYE, as the fireworks show is right there in front of you. Pair this with the sophisticated menu from chef Michael Moore and you have the ultimate fine dining combination. Kiss goodbye to 2020 in the height of opulence with an eight-course tasting degustation with a complimentary glass of NV Louis Roederer Brut on arrival.
From $695 per person
(Guaranteed window table & matching wines – $875 per person)
Ripples, Milsons Point
$$$$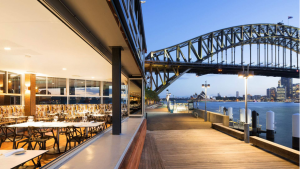 Image Credit – Concrete Playground
While 2020 has no doubt been a year that we would rather forget, finish it on a high with a delicious feast at one of Sydney finest and one of our favourite waterfront dining locations. Like O Bar, if primo positioning for the fireworks is what you're after, Ripples should be at the top of your list. Make the most of your final meal of the year with an all-inclusive, multi-course degustation with matching wines, beers and non-alcoholic beverages for the duration of the event. Enjoy the evening in an intimate setting with your nearest and dearest and start the year off in one of Sydney's most iconic settings.
$795 per person
Aria Restaurant
$$$$$
Image Credit – Conde Nast Traveller
Regardless of the day, Darling Harbour is one of Sydney's most cherished waterfront destinations. With a myriad of restaurants and activities all in one place, it's not surprising that it is one of the most desirable spots to ring in the New Year. With flame and light shows every hour from 7pm, as well as land and water-based fireworks at 9pm and midnight, it's an all-night event that you won't want to miss. When it comes to dining, look no further than Darling Harbour's finest restaurant, Aria. The award-winning eatery is offering two packages including a 2 hour early seating from 5pm and a NYE main event seating from 7pm (through to midnight).  While the experience will set you back a pretty penny, guest will enjoy a six-course tasting menu, premium wines throughout the evening and a take-home gift pack.
From $300 per person
(Main event $1,450 per person)