For the better part of a decade, we have watched the stevedoring wharfs at East Darling Harbour transform into the stylish precinct we see today. With new restaurants popping up almost daily to create a melting pot of culinary perfection on our Harbour foreshores, Barangaroo has the kind of WOW factor that can only be felt in the heart of the city. While this mammoth project is not due to be completed until 2024, we already have a strong line-up of favourites that are too good to not share.
COVID-19 will certainly have had an impact on these venues over recent months and we suggest making contact to confirm current status and possible restrictions in place
If you're thinking of stopping off at Barangaroo on your next adventure, here is our list of go tos that do not to disappoint!
LOVE.FISH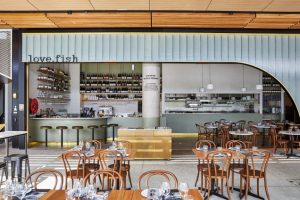 Before visiting the second venue of Michelle Grand-Milkovic and Michael Milkovic, we had never found ourselves craving NSW hand dived live sea urchin or a salted macadamia espresso martini. Now however, it's safe to say we find ourselves craving them on a daily basis. Known as the seafood bar with a green heart, love.fish ticks boxes we didn't even know existed.
With a 6-star Green Star Commitment to sustainability in the precinct, Barangaroo is the perfect place for love.fish to call home. Their dedication to offering exclusively local, seasonal and sustainable produce makes for an eclectic mix of food and beverage options from around the country.
The menu highlights the insanely delicious produce that we have here is Australia from the sea to the paddock with kangaroo, Tassie scallops and Mooloolaba albacore tuna all featured. While we can never go past a seafood platter (and this one is not to be missed), we suggest opting for the lesser-known dishes like the sea urchin taramasalata.
For more info head to https://www.lovefish.com.au/
PHOMO
As Sydney's only waterfront Vietnamese restaurant, Phomo is already at the top of its game. Add the fact that they serve Pho and Vietnamese iced coffee and we have ourselves a winner. Phomo is located right on the waterfront in front of the new Barangaroo ferry which makes it the perfect spot for people watching as you feast on anything as long as it's covered in XO sauce.
The menu is the brainchild of head chef Peter Wu who has been pushing the culinary boundaries since he joined the team. From modern tapas style dishes to traditional dishes like their 6-spice crispy skin chicken, Phomo is perfect for any occasion whether it's an afternoon snack on your way back to the marina or a long lunch.
While you really can't go wrong with any of their dishes (unless you have that gene that makes coriander taste like soap), you cannot dine at Phomo without experiencing the perfection that is their Pho. The 12-hour beef broth that is the foundation of their signature dish could honestly bring someone back to life.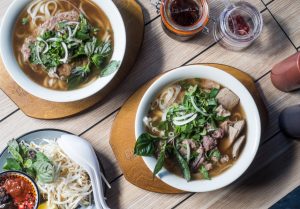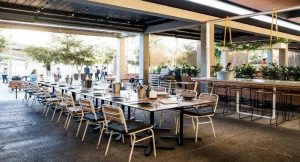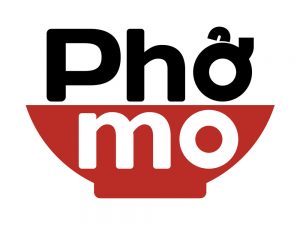 CIRRUS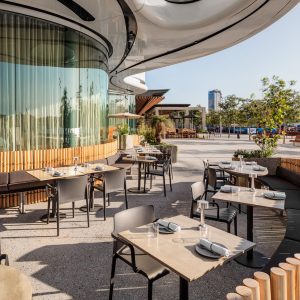 Cirrus is somewhat of an institution in Barangaroo. If you know any restaurants on this list, chances are Cirrus is one of them. Known for its seafood (shocker we love it), chef and sommelier duo Brent Savage and Nick Hildebrandt (Bentley Restaurant + Bar, Monopole and Yellow) have created an incredibly innovative space with the menu to match.
As light pours in through the floor to ceiling windows you know you're in for a treat. The attention to using premium seasonal produce from local growers and sustainably-caught seafood can be seen across every table. The wine list has been created to compliment the menu which make choosing a good drop effortless. Just when you thought we couldn't find another mouth-watering platter for you, the team at Cirrus present all the classics and more over two tiers of seafood perfection.
Other stand out dishes include black angus rib eye, grilled rock lobster with spiced pumpkin and kaffir lime and the Queensland mud crab with house made XO in a fried bun. If you're feeling super adventurous, treat yourself to one of the group menus where you can sample everything Cirrus has to offer.
For more info head to https://www.cirrusdining.com.au/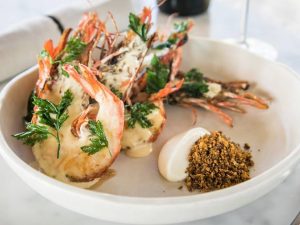 12-Micron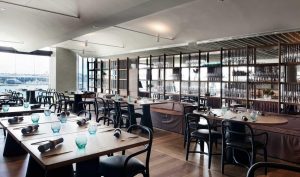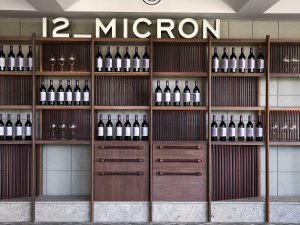 While all of our features have a waterfront theme, Barangaroo has another. Like all restaurants in this sustainable precinct, 12-Micron sources predominantly Australian ingredients from a range of producers and create a refined menu inspired by the 4 elements – earth, ocean, land and air. In other words, fresh local ingredients cooked and platted perfectly.
The unpretentious, quality focused menu features mains like steamed blue eye cod with a Parsley emulsion, braised rappe and white radish or a good (not so) old fashion 400-day F1 cross bred premium Wagyu 200g rump for all the meat lovers. If truffle is you thing be sure to try the pressed truffle pecorino toastie which tastes exactly how you think it would – unbelievable.
For all you sweet tooth's, 12-Micron is the restaurant for you with a 64-seat dessert bar headed up by the crazy talented Darren Purchese. With its own menu you will want to save room for dessert. If you can't decide because they all sound so damn tasty they have dessert degustation's for the ultimate sugar fix.
For more info head to https://12micron.com.au/