Up on the Northern Beaches, Church Point is somewhat of a local institution. At the southern end of Pittwater, this waterfront suburb has all the nautical charm of regional coastal towns without ever having to leave the city. Just 32km from the CBD, Church Point is a 60-minute cruise away from Sydney Harbour and the hustle and bustle through some of Sydney's most breath-taking scenery. With its unique history ever present, there is always something new to explore. From Scotland Island to Ku-ring-gai Chase National Park, you'll be sure to build up quite the appetite on your adventures. Lucky for you there are some pretty incredible spots to unwind where the food is as good as the views that come with it!
 The Marina Café
The Marina Café is exactly what the name suggests. Located at the stunning Quays Marina, you can count the steps between your boat and your morning cup of Joe. Keeping true to the natural quaintness of the area, The Marina produces all their own jams, chutneys and sauces which can be enjoyed in house or at home with all available for purchase. Be sure to sample their Steller line up of cakes, muffins and even home-made ice-cream which will be sure to satisfy even the sweetest tooth.
For those looking to stop in for lunch, the Marina's menu is a mix of both the farm and the sea with standout dishes including Spring Bay Mussels, Chargrilled king prawns & scallops w sweet pork caramel and Chargrilled wagyu rump (mb8+) for all you meat lovers. The little ones can enjoy their own menu with all the classics like fish and chips, pasta or a steak.
But wait we're not done yet. Although they are fully licenced, The Marina Café offers BYO, so you can crack open a bottle of your favourite pinot for a $5p/b corkage.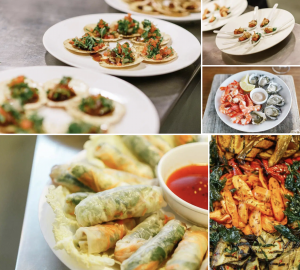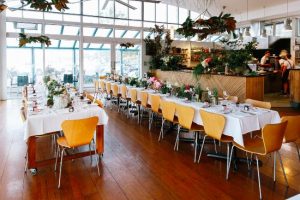 Cheers to that!
For more info and to view menus, head to http://www.themarinacafe.com.au/
Pasadena
If you're a Northern Beaches local, chances are you know of Pasadena and its colourful past. After being closed for almost a decade, Pasadena reopened its doors last year and has never looked back. The 160-seater seafood grill restaurant fronts a 14-room boutique hotel with unobstructed views of Broken Bay, so your long lunch can turn into a late breakfast. Sitting on some prime waterfront real estate, owners and long-term residents of the area Paul and Sheridan Peterkin set out to delicately restore and revive The Pasadena to a contemporary version of its former self.
The lunch/dinner menu offers a wide selection of Italian inspired dishes with of course seafood signatures like seafood linguine, prawns by the bucket and fish of the day specials. It also has a pretty impressive selection of starters so if you're more into the tapas/have a bite of everything vibe, they have you covered.
If you still have room, the deconstructed chocolate bar with chocolate chip ice cream + peanut butter parfait is definitely worth undoing a top button for…looking for a special venue for Valentines Day? Check out the special $80 pp menu on the website below.
For more info and to view menus, head to https://pasadenasydney.com/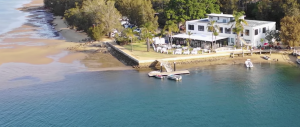 Waterfront Café & General Store
The Waterfront General Store and Café is everything you didn't know you wanted and so much more. From live music to candles for purchase, the eclectic offering gives this heritage listed post-office-come-hangout a quirky charm you won't find anywhere else. The laidback vibe and killer location that looks out over Pittwater is great for families and those looking for a chill spot to enjoy a pint. Opening 7 days from 6.30am, you can grab an early morning coffee before you start the days adventure or finish things off with life music and bite to eat. Either way the Waterfront Café & General store is buzzing with locals and visitors enjoying their days.
The beauty of The Waterfront is there is something for everyone. The restaurant menu is surprisingly refined with a nod to the Italian seaside. Kick things off with a Mezze or Tasting Plate before moving on to mains like seafood Bouillabaisse or cornfed chicken stuffed with mushroom truffle pancetta. If you're not feeling a sit-down meal, you can grab a burger or fish and chips and head to the beach thanks to their full takeaway menu.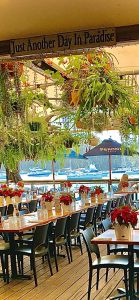 Either way the choice is yours!
For more info and to view menus, head to https://www.waterfrontstore.com.au/
Blue Pearl Bayview Thai Waterfront Restaurant
A welcomed change from the majority of waterfront dining options that are centred heavily around seafood (which don't get us wrong we absolutely love), Blue Pearl has been spicing up the culinary offering at Church Point for almost two decades. Formerly known as the Green Pearl Bayview Thai Sea-Grill, they serve up locally sourced ingredients with traditional Thai flavours and like all of our Church Point favourites, the view is to die for. While open for both lunch and dinner, Blue Pearl does close for a couple of hours in the afternoon (between 3-5pm) so if you're feeling like some Pad Thai, make sure to factor this into your day.
If you're still keen on getting your seafood hit, there are plenty of dishes to satisfy your craving like mixed seafood Gan Dang, Prawn PLAH Salad or a classic Tom Yum. One of the best things about Thai restaurants is always the extensive menu and Blue Pearl does not disappoint. You'll find all the classics too so don't stress. Like the Marina, they offer BYO along with a fully licenced bar, so you can sit back and enjoy a taste of Thailand with your go to vino in hand.
If you are after a great coffee, check out 8 Knots Cafe right on the waterfront at Gibson Marina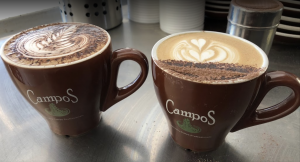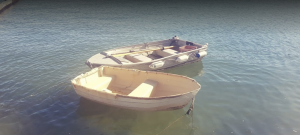 For more info and to view menus, head to https://8-knots-cafe.business.site/