The second largest of our fleet, the Pacific 44 will not only get you where you need to go, but get you there feeling like a boss. Our Sea Ray 455 Sundance Sports Cruiser lends itself perfectly to entertaining with premium facilities for both day and overnight cruises that give you the freedom to explore Sydney's unparalleled coastline in the utmost style.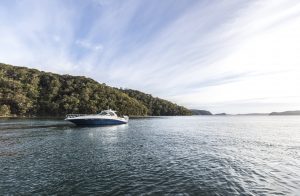 Perfect for those looking to host larger groups and have bespoke entertainment facilities on board, the 44-class membership gives you space to enjoy your surroundings.  With kitchen facilities that put your first apartment to shame, hosting has never been easier with a fridge, stovetop, freezer and microwave ready for you try out your newest culinary creations.
The beauty in this vessel is in the flexibility it provides and is loved by both families and groups of friends looking to make the most of their days out on the water.
Our Pacific 44 cruisers are licensed for 12 and sleep 6 comfortably with separate cabins and a private shower giving you and your guests some much-needed privacy, especially on overnight stays. With memberships starting from $2195 (mid-week) and $3295 (full week), the Pacific 44 amenities rival that of much bigger boats.
Feel like having a BBQ on board?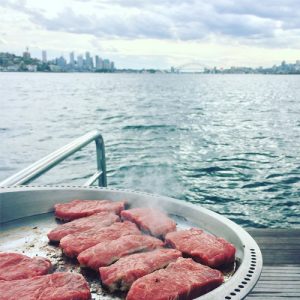 No problem.
The kids want to watch different things on the TV?
With 3 flat screens you can keep all the little ones occupied while you entertain and enjoy your surroundings from morning to night. The vessels also come with air conditioning to get you through the summer months.
Many of our 44 class members have upgraded from the 29-class membership after feeling confident in tackling a larger vessel. We also see memberships within this class shared between families or groups of friends as well businesses that are looking for a boat that lends itself to hosting corporate events.
With space, amenities and value at the forefront for 44 class members, the journey is equally as important as the destination and this vessel is designed to be enjoyed. While all boats in our fleet are perfect for day cruising, the Pacific 44 allows for the seamless comfort in overnight escapes as well.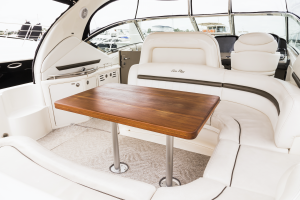 Here's what some of our members have to say about their 44 class memberships:
"Another great day out boating with Pacific Boating. Can highly recommend. We particularly love the walk on walk off service and the marina teams are always so helpful & friendly. Recently trained on the 44 and looking forward to getting out on the bigger boat soon."
"I have been a member for over 4 years. Overall the boats performed very well, maintained well, and in good order. I started as a 29ft. member and moved to 44 class, and really enjoying it since then. Staff and management are always supportive, explaining and kind. I have also enjoyed their on going events and periodic "refreshment" sessions. Above all, the concept of "walk on, work off" works well for me. 
Find out more information about the Pacific Boating 44 class.