"I guess you could say I have always had a love of flying. Whether it was in the sky or across the water, there is something so magical about cruising at high speeds."
We would like to introduce Antonio Neves, one of the wonderful team members working for Pacific Boating.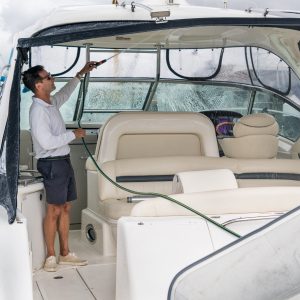 Antonio is a Senior Fleet Manager at Pacific Boating. When he joined the ranks in 2017,  he couldn't have been more excited to be back on the water once again. For the 10 years prior to joining the Pacific Boating family, he was a flight attendant with Tap Air Portugal which allowed him to see the world and all the amazing coastlines within it.
"Growing up in Portugal meant that the ocean was always a big part of my life. Most of my early memories are of days spent with my family on our boats. My parents had a runabout (17') when I was a child and my grandfather had a 40' sailing yacht which back then, seemed like a cruise ship to me. Nothing can beat those summers in the south of Portugal and Spain with my family. We would wake up with the sun and jump in the water and swim with dolphins."
"I am so grateful that my role allows me to spend as much time as possible out on the marina enjoying the fresh ocean air. Just like when I was younger, I wake up with the sun on the deck and make sure the boats are ready for our members. I love the early morning when it is still quiet and I can watch the water slowly come to life."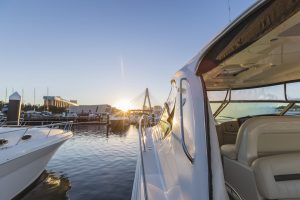 As a Fleet Manager Antonio is responsible for maintaining, cleaning and preparing the boats for the Pacific Boating Members to use. With his team he is responsible for ensuring that the member experience is hassle free and in deed walk on walk off.  He plans services, organises trades and catch ups with suppliers. Most recently he worked on the consolidation of the fleet of Sydney Harbour and project managed the retrofit of the newest 52' which is very exciting for our members.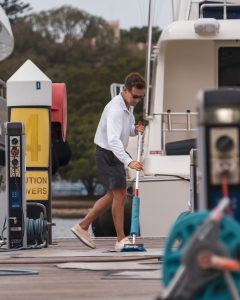 "What I love about this company is the strong sense of camaraderie. No matter what your rank, on any given day you can see everybody working alongside each other to make sure that our members receive the best experience. More often than not you will see our Managing Director Phil somewhere on the dock lending a helping hand. In fact every person working for the company regardless of their role is always more than happy to help out on the early shift wherever and whenever we need them. Everybody puts in a big effort behind the scenes to make sure the product is presented in the best way possible, every day of the year.
My team includes a group of fleet managers (Jeff Hussey, Dimitri Marabelis, Mark Twynham, German Valerio) and detailers (Karla Deza, Sofie McKeever-Ford, Liliana Rodriguez, Neil Davidson, Zac Goodacre). Daily operations wouldn't be possible without the help of these amazing people.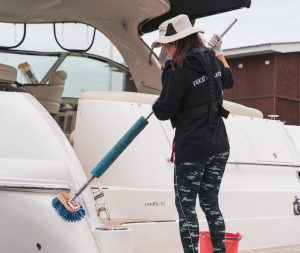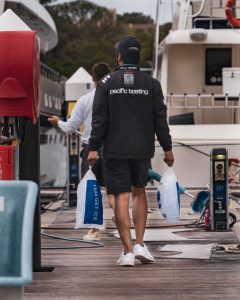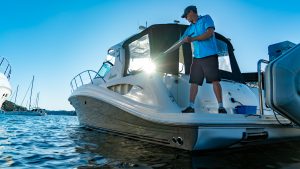 When I think back to how much time my family and I would spend at the marina getting my grandfather's boat ready before and after we would head out on the water, it makes me wish there was a Pacific Boating around then to take all the hassle out if it. Not having to worry about cleaning and maintenance is a service I would have killed for!!"
Antonio has spent the better part of his working life in customer service roles and having direct contact with members and meeting people from so many different backgrounds on a daily basis is one of the things he loves most.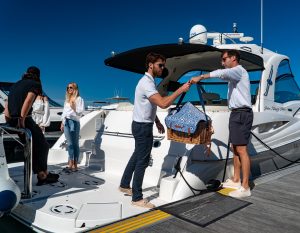 As you can tell he is passionate about boats and the sea and working at Pacific Boating gives him the best of both worlds