If someone had told me at 22 that I would be living 17,000km away from home, surrounded by sea and sunshine I would have told them they were crazy. As an up and coming professional golfer residing in my homeland of England, this was a stretch even for me. Fast forward 5 years (ok maybe a couple more that) and I may not have become the next Tiger Woods, but what the universe had in store for me was much more than bright-eyed and bushy tailed 22-year-old could have ever imagined.
My name is Mike Hammond and I am the Finance Manager here at Pacific Boating.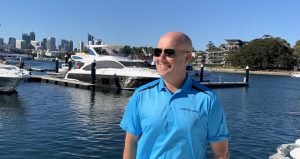 After my short but sweet career as a professional athlete, I entered the finance world and never looked back. In London I had the opportunity to work across a variety of industries in accounting roles from Property Development, Facilities Management and Banking. At this stage, I had never heard of Pacific Boating and I had accepted the fact that as an accountant, I was destined to a life in front of a computer. While I absolutely love what I do, I'd be lying if I said that after a decade of being inside an office, I didn't miss the fresh air and (occasional) sunshine of my golfing days.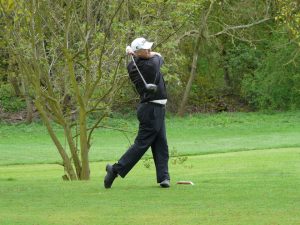 Someone up there was looking out for me because just around the corner was not only the opportunity to move to a country that is known for its sunshine, but an entirely different way of working that I never thought was possible. While my role here at Pacific Boating naturally includes numbers, the finance department (consisting of me, myself and I) is no different to any other area of the business, meaning we all have our hands out to help when needed.
Contrary to what you have seen in Wolf of Wall Street, finance can be a pretty mundane area to work in at times and having the opportunity to get out from behind the desk and out onto the marinas keeps me on my toes. It is not unusual to see Senior Management getting on the boats with a chamois to get them ready for members in a morning. There is a very strong sense of pride within the PB team that is reinforced by our commitment to our members. Every day is different, and every night I come home with a new story to tell.
My week is split between Pittwater and Head Office at Rozelle Marina. I know – it's just terrible having to spend my days by the water, but someone has to do it! I interact daily with all team members at each location, as well as suppliers and contractors. I was able to attend the 2019 Sydney International Boat Show which was a weekend I will never forget. The strong sense of camaraderie within the team is something I didn't know I needed until I came to Pacific Boating and I have met some fabulous people.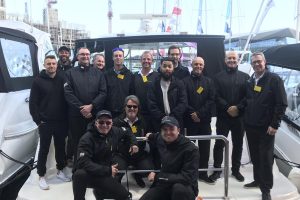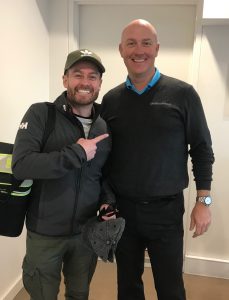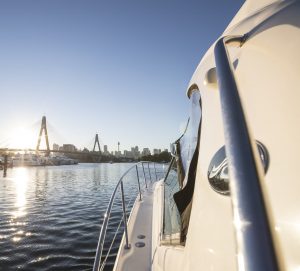 When my mum came over from London a couple of years ago, I was able to take her out exploring Sydney Harbour and Pittwater. While typically accountants from the UK don't get to show their mothers around on a luxury sport cruiser, Phil and the team wouldn't have it any other way. We talk a lot here about the Pacific Boating family because it really shapes everything that we do. Whether you're a member or a part of the team, you feel stronger knowing you have the support of this crazy blended family behind you.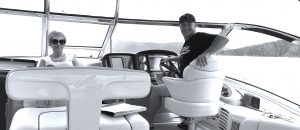 From living the life of a professional golfer (just a few couple of years ago remember) to auditing in one of the world's largest banks, I have never been able to say that I love what I do with as much certainty as I can now.
Chamois and all.