For those of you that dream about sailing off into the sunset on a 50-foot yacht and never looking back – this is the boat for you. The largest in our fleet, this vessel has all the trimmings. The ultimate in performance, craftsmanship and luxury, there is no occasion that our 52 Sea ray Sundance sports cruiser isn't perfect for.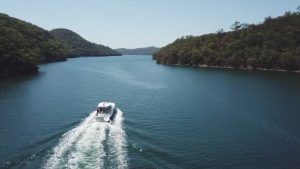 Whether you're looking to enjoy time out on the water with family, friends or corporate guests, the Pacific 52's versatility comes from its long list of amenities. This vessel is perfect for those looking to escape for a couple of days with no luxury spared. We call it our floating 5-star hotel with access to the world's biggest pool right from your doorstep.
The Pacific 52 is licensed for 12 and sleeps 7 adults more than comfortably so you can turn your day into a weekend without feeling like a bunch of sardines. Housing generously proportioned cabins each equipped with a private head and shower, you can say goodbye to your bathroom roster and get back to enjoying Sydney's hidden gems with the people you love.
Designed with entertaining in mind, you can rest easy knowing that no matter what the occasion, this vessel has you covered. From casual BBQ's to formal catered events it has everything you need (and more) to wow your guests. Features include 4 flat screen TVs, Foxtel, Bluetooth, 3 DVD players, air conditioning, fridge and freezer (got to keep the beers cold), duel stove, microwave and BBQ. We could keep going but this article would soon become an essay but you get the picture, it has it all!
52 Class memberships range from $3195 (mid-week) to $4595 (full week) with all maintenance and services included. You know what they say, the bigger the boat… the bigger the upkeep, so it's is perfect for boat lovers who are looking for the performance and sophistication of such a vessel without any of the responsibilities.
We also see many of our 52-class memberships used for exclusively corporate purposes. Whether it's entertaining clients, incentivising staff, strategy days or a remote office, our Pacific 52's have housed them all. Who needs a corner office on the 50th floor when you have 360-degree views of Sydney's iconic waterways to enjoy.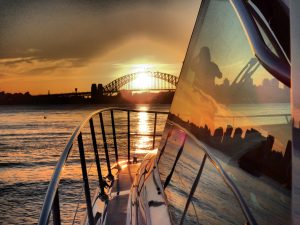 Find out more about Pacific 52 here.
Please note some restrictions are currently in place due to COVID-19