Long sunny days and calm balmy nights make spring the perfect time to get back out on the water and make the most of the most beautiful city in the world (we aren't at all biased). With COVID keeping us firmly on Sydney soil, keeping the kids off the devices and entertained can be tough, but as the weather warms up it's time to make the most out of your membership and enjoy some much-needed quality time in the great outdoors! With safety and social distancing always the number one priority, here is our list of the top kid-friendly beaches around Sydney.
Clifton Gardens
A favourite for kid's birthday parties and play dates, Clifton Gardens is our go-to for kid friendly activities. With its super calm waters and epic playground, it provides hours of entertainment. For the teens, there are full BBQ facilities where they can chill and soak up the sun or even head off on a stroll along the coastline and get some snaps for Instagram. After a day at the beach, Bradleys Head is just around the corner so you and the family can watch the sunset with uninterrupted views of the city.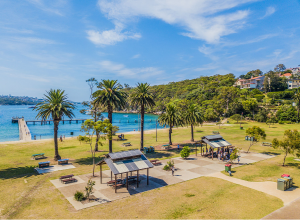 Image Credit: Gillex
Balmoral Beach
Of all the beaches on this list, Balmoral really has it all. Like Clifton Gardens, its nautical themed playground is perfect for Spring and Summertime adventures as its completely in the shade. While the little ones tire themselves out, why not grab a coffee at one of the many cafes and eateries all within eyeshot of both the playground and the enclosed jetty. The jetty is a favourite for kids and adults alike where you can jump into the crisp blue water.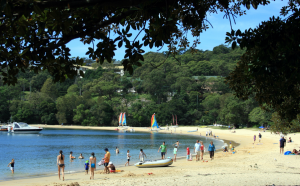 Image Credit: Wikimedia Commons
Clontarf Reserve
Super safe and equally as popular, Clontarf Reserve is the perfect spot for young kids to splash around on the shore or build castles in the sand. With a pool enclosure at the front of the reserve you keep an eye out without them wandering too far. Big shady trees will keep you cool as the weather starts to heat up and the kiosk has you covered for snacks and a cold drink. Families that are looking to bring out the water toys, Clontarf is perfect for kayaks and paddleboards.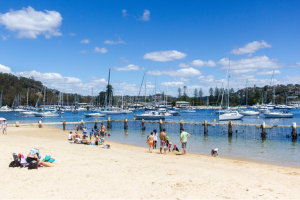 Image Credit: Baby Brain Sydney
Avalon Beach
Who doesn't love the Northern Beaches? The chill vibe and plethora of activities is perfect for families of all ages. Set up shop by the ocean pool at the southern end of the beach and get up close and personal with marine life (the little ones love it). The neighbouring Des Creagh Reserve houses a sun protected playground that is surrounded by a large grassy area and a skate park too.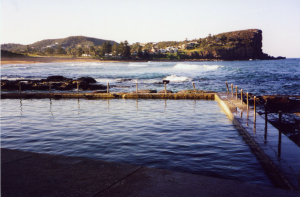 Image Credit: Cheap Hotels
Castle Rock
While this may not be specifically a beach destination (although there is a beach), we challenge you to take it back to basics. Fishing is one of our favourite family friendly activities that will not only keep the kids occupied but can be enjoyed with a stubbie in hand or a glass of bubbly. Other than remembering to pack a line, there is very little effort required in catching a delicious feast (or at least have fun trying) for your guests and Castle Rock is the perfect place to do it with their crystal clear and calm waters (if planning to fish don't forget to apply for a fishing license)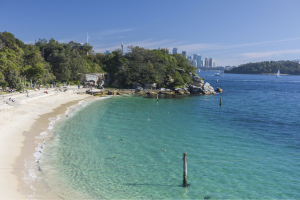 Image Credit: NSW National Parks Blog
Dee Why Beach
We all know that Dee Why is one of Sydney's best surf beaches but it's also great for little ones too. If you're kids aren't quite up to catching some waves, snag a spot at the southern end by one of the two ocean pools while you sit back, relax and enjoy the sunshine. There is a fenced-in shaded playground with picnic tables and breath-taking views as far as the eye can see. If you're looking to eat out, The Strand has your pick of tasty snacks to keep you going all day long.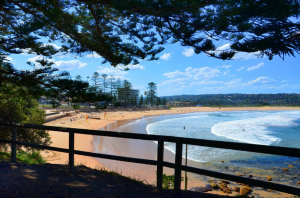 Image Credit: Manlyaustralia.com
Shelly Beach
Rounding out the list is another Northern Beaches favourite. Shelly Beach has golden sand and a large green reserve to match. Bring a picnic and let the kids run free exploring the rocky surroundings. Grab yourself a coffee at The Boathouse Kiosk which is literally on the beach before heading over to the Fairy Bower Rock Pool that is just a short stroll away. For those who are more interested in water activities. Be sure to check out the reef that is perfect for snorkelling.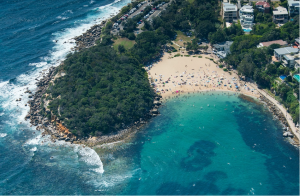 Image Credit: Hello Manly