There are so many hidden beaches that can be discovered when exploring Sydney's beautiful waterways and here Pacific Boating shares some of their favourite hidden gems
Chinaman's Beach, Mosman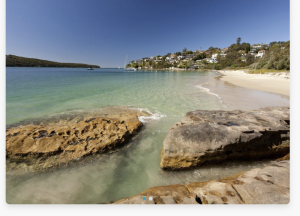 Chinaman's Beach is a hidden treasure in Sydney's Middle Harbour. Unlike its bigger neighbour Balmoral Beach,  Chinaman's Beach never really gets super crowded. 
This 250 metre stretch of sand is at the northern perimeter of Mosman, one of Sydney's most genteel residential enclaves. Chinaman's Beach is well inside Middle Harbour so there's nary a wave to be seen, making it a great place for a relaxed swim, picnic and a splash about for the kids.
The better known and much busier Balmoral Beach is a one kilometre walk around the rocks to the south, so a visit to both is easily done on the same day. The bay in front of the beach, known as Shell Cove, is a popular spot for boats to pull in and throw an anchor over before diving in for a swim.
Redleaf Beach, Double Bay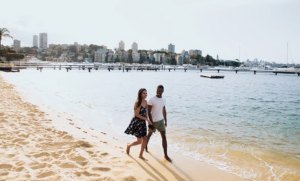 Situated in the beautiful Double Bay precinct, Redleaf Beach is another of those idyllic Sydney harbourside beaches you just want to visit.Murray Rose Pool (formerly Redleaf Pool), can be found at the western end of the beach and provides swimmers with a safe harbourside tidal enclosure to swim in. With a swimming area of approximately 90 metres by 60 metres, even on a busy day there is no shortage of swimming space.
There is a wrap-around pontoon which makes for a lovely walk and if you're feeling peckish, the cafe' on the hill provides delicious meals and fantastic views looking out to Darling Point and the Harbour Bridge.
Lady Martins Beach, Point Piper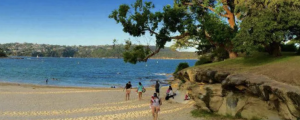 Lady Martins Beach is one of Point Piper's best-kept secrets – The long narrow stretch of sand tucked away in Felix Bay is the perfect place for an exclusive dip in the Harbour. On arrival, one of the first things that you will notice is that the beach is a long strip of white sands alongside a small jetty. If you are looking for a place to enjoy a relaxing dip, then this is the perfect location. It is impossible to visit this beach and not enjoy the panoramic views it offers of the harbour. Soak in this majestic beauty as you play with the kids or catch up on a good book. The beach is also ideal for relaxing, so if you are looking for something to take you away from the city hustle and bustle, then Lady Martins is the place to be.
Milk Beach, Vaucluse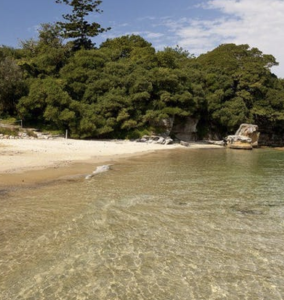 Situated at the base of Hermit Bay within the Sydney Harbour National Park, Milk Beach is a small isolated beach surrounded by the Heritage listed Strickland House. Offering a breathtaking view of Sydney, Milk Beach is one of Sydney's Eastern Suburbs well-kept secrets.Access to Milk Beach is limited, however, it can be accessed via Public Transport, boat or limited off-street parking is available.There is plenty to do when visiting Milk Beach, from fishing and snorkeling, to family picnics under the awning or a walk along the Hermitage Foreshore.
Store Beach, Manly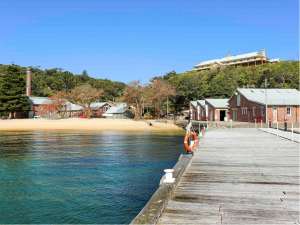 Store Beach is located in the Sydney Harbour National Park, between Quarantine Beach and Collins Beach. It was where ships used to unload provisions for the Quarantine Station. With a deep anchorage in Spring Cove, beaches such as Store Beach were found to be suitable for landing and airing cargo. There was also a fresh water supply from the swamp ground above Quarantine Beach and a remoteness from the Sydney settlement. This lead to North Head being selected in 1833 for the establishment of a permanent quarantine station.This 200m long sheltered beach fringed by bushland, faces west across North Harbour and is only accessible by water. It will take you between 20 and 30 minutes to kayak there from Manly Wharf (approx 2km in distance).  Store Beach is a fantastic destination for couples wanting a romantic setting. It is also a fantastic spot for families wanting to get away from the crowds. Why not pack a picnic and kayak here for a lazy morning or afternoon.  Don't forget your sunscreen, hat, towel, and swimming gear/snorkel. This wonderfully secluded beach with scenic views and pristine sands will make you feel as if you have escaped to a remote tropical island.The fairy penguins also appreciate the seclusion of Store Beach and have claimed it as their breeding ground.  Beach access is prohibited after dusk in order to keep the penguins safe as they waddle in to settle down for the night.  Make sure you leave the beach as pristine as possible in order to preserve the aquatic reserve with its seagrass beds, providing important feeding areas for these protected creatures.An interesting fact about Store Beach is that during World War 2, a 9.2″ gun was landed here, prior to being placed in position at North Head.
Currawong Beach, Ku-ring-gai Chase National Park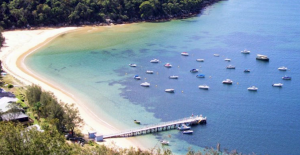 Currawong is situated on the Western Foreshores of Pittwater, accessible only by water, surrounded by a national park and is home to a sheltered sandy beach.  It has an area of 19.7ha, most of which is pristine native bushland, and around 4 ha of which is built up.  The entire site is listed on the State Heritage Register as "an intact remaining example of a mid-twentieth century, union-organised workers' holiday camp in NSW, designed for workers 'to get away from crowded industrial areas and enjoy places normally frequented by richer people' (Sydney Morning Herald 30/12/1947, p3)," and which has been used by generations of trade union members and families.  Its significance also rests on its rarity value, as the only remaining holiday camp consistently in use for 60 years, with original buildings, designed and promoted specifically for workers, and one which is moreover situated in one of the most beautiful and unspoilt parts of Sydney, despite its proximity to the metropolitan area.
Resolute Beach, Ku-ring-gai Chase National Park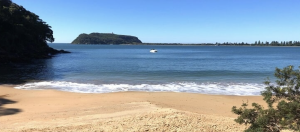 Resolute Beach is a beautiful secluded strip of sand in the West Head section of Ku-ring-gai Chase National Park, opposite the Barrenjoey Headland and facing Pittwater.With amazing views and beautiful emerald green water, a visit to Resolute Beach feels like you're stepping into a small tropical paradise.Two exciting walking tracks, that together form the Resolute Loop Trail, lead to this amazing beach.
For more information on these and other amazing beach adventures check out
https://blog.nationalparks.nsw.gov.au/the-seven-best-secret-sydney-beaches-youve-never-heard-of/