What is a Marina?
What is a Marina? What does it offer?  There is a difference in the quality offering across marinas but a marina should cater to a variety of boating products and services. Whether you want to live on a boat, repair or service, clean or maintain, fuel, moor or berth, purchase goods, buy a boat, join a club… or simply enjoy a coffee or meal overlooking the water or grab some catering pre cruise there will be a marina offering to cater to your needs
The Quays Marine Centre is one of the best situated on the southern end of Pittwater, just across from Scotland Island. They are a private marina catering for a wide range of boating needs.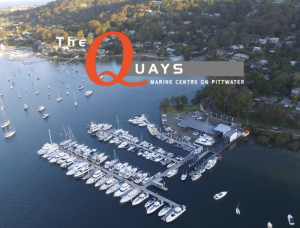 They have 106 berths and 69 moorings that are leased out to their customers. To service its mooring customers they offer a seven day a week tender service running from the marina to the mooring. They offer both diesel and unleaded fuel, ice, gas.Like some other marinas The Quays offers full on site servicing through Q Service which is an advantage.
How much does a marina berth cost?
This will of course depend on location and facilities and there are a number of variables but on average you will be paying from $1200 per month to berth your boat or up to $500 per month to moor your boat adjacent to the marina berths.
Can you live on a boat in a marina?
In some areas, liveaboards aren't permitted . Most marinas now have long waiting lists for availability where it is allowed and there are a number of restrictions and regulations regarding to living on board which you should check before moving on board permanently
Where is Pittwater Marina?
There are a number of marinas along the Pittwater waterfront. Our Pacific Boating location is at The Quays Marina…one of the best!
Map of Pittwater Waterways
The below 2 maps will show the key bays and their location in Pittwater, Cowan Creek and The Hawkesbury
https://www.nsw.gov.au/sites/default/files/2021-07/9a-pittwater.pdf
https://www.nsw.gov.au/sites/default/files/2021-07/9a-cowan-narrabeen.pdf
Boats for Pittwater Marina
Pacific Boating has 5 luxury sports cruisers berthed at The Quays Marina from where our members can explore Pittwater and The Hawkesbury.
Our members can choose a 44 foot or 52 foot cruiser and can sign up for a mid or full week membership depending on their needs.
Check out the links below for more information.
https://www.pacificboating.com.au/boat-class/pacific-44/
https://www.pacificboating.com.au/boat-class/pacific-52/
While you're on Pittwater…
why not check out these waterside Pittwater restaurants
The Marina Cafe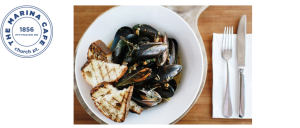 Spacious, glass-walled venue plating Modern Australian cuisine, plus a deck overlooking the water.
1856 Pittwater Rd, Church Point NSW 2015
The Waterfront Cafe and General Store

This busy waterfront spot with a large, heated open-air deck offers bistro fare, cakes & cocktails.
1860 Pittwater Rd, Church Point NSW 2015
Pasadena
Following six years of painstaking renovation and restoration, the Peterkin family revive Pasadena as an entertainment venue, restaurant, bar and boutique accommodation.
1860 Pittwater Rd, Church Point NSW 2015
Dunes Palm Beach
Relaxed, breezy eatery with beach views, serving Modern Australian dishes in leafy surrounds.
1193 Barrenjoey Road located inside Governor Phillip Park, 1193 Barrenjoey Rd, Palm Beach NSW 2108
And from there maybe take a walk to Barrenjoey Lighthouse
The Barrenjoey Head Lighthouse is a heritage-listed lighthouse at Barrenjoey Headland, Palm Beach, Northern Beaches Council, New South Wales, Australia. It was designed by James Barnet, the New South Wales Colonial Architect and built by Isaac Banks. It is also known as Barrenjoey Head Lightstation.
1199D Barrenjoey Rd, Palm Beach NSW 2108