In today's hectic world, there are very few things that allow you to completely switch off and relax. Even on the water it's easy to get distracted by emails, Facebook videos or Instagram (got to love that on board wifi).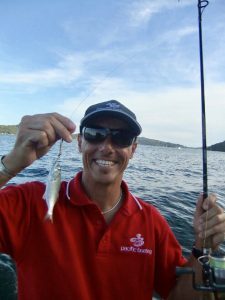 While there are so many exciting activities you can enjoy on the water, we challenge you to take it back to basics. Fishing is one of our favourite family friendly activities that will not only keep the kids occupied but can be enjoyed with a stubbie in hand or a glass of bubbly. Other than remembering to pack a line, there is very little effort required in catching a delicious feast (or at least have fun trying) for your guests while enjoying the scenic perfection that is Sydney's Waterways.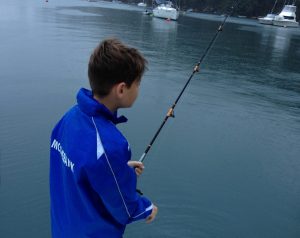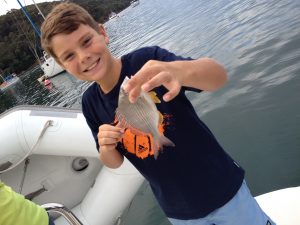 While the premise of fishing hasn't changed much in the last 100 years, if you're a total rookie looking to try something different, here are a few of our team's pro tips that will have you putting your granddad to shame in no time!
The single most important thing when you're planning to head out and drop a line in the water is Location! Location! Location! Finding a safe mooring or anchoring position out of the wind and traffic is essential to ensure you get the most out of your day of fishing. PB team member Adam Price suggests focusing on a particular species (Bream is always good species to target).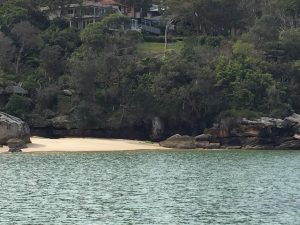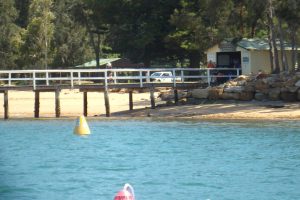 So, you've picked your ideal species, where you're setting up shop and now you're ready to cast your line into the water. Now we need to talk about a little, but hugely important thing called Burley (something that you put in the water to attract fish). Burleying will achieve two things: 1) it will bring the fish to you; and 2) it will get them actively feeding. Before you spend the better part of the morning running around trying to find commercial­­­ grade burley, it can literally be as simple as using a piece of bread rubbed between your fingers (insanely effective) or pieces of food from your lunch like bits of chicken or prawn heads. If you're looking to take things to the next level, burley bombs are a mixture of bread, sand, tuna oil, pilchards and various other bits and pieces depending on which species you are trying to attract. While effective they are by no means necessary to have a successful fishing day. It's good to keep a steady 'burley trail' going by throwing a bit of burley every now and then to keep the source of the burley fresh and obvious. The scent of the burley will be carried off in the current and any fish coming across the scent of the 'burley trail' will follow the trail up to the source and hopefully find their way onto your line.
Ok, now we're ready to cast. When dropping your baited line, drop straight down to the bottom and then wind the line up about 30cm from the bottom so the bait swings with the boat and doesn't drag or get caught around the propellers. There's nothing worse than spending an hour watching a line only to find that tugging you were convinced was your dinner is actually the bottom of the engine. Keeping your line just off the bottom will also keep the tension so that you can feel the nibbles and bites. If your rod is in a rod holder, you will have a MUCH greater chance of actually 'hooking' the fish when it does bite, if you are not holding your rod and ready to 'strike' (set the hook) when the fish bites.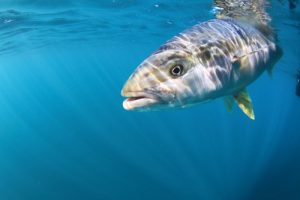 From here, it's up to you. With a bit of luck and a whole lot of positive thinking you should be able to catch a fish or two. Like Pacific Boating Member Ron Hathaway who caught a Jewfish (also known as Mulloway) in Coasters Retreat Pittwater using a frozen pilchard as bait. After the excitement Ron released the fish to swim another day.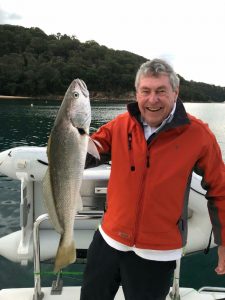 One of the most commonly asked questions we get is if people swimming around the boat will deter the fish. Not only do fish not mind a little company in the water, they are super curious and will more than likely swim over to see what all the fuss is about so don't stress if the little ones want to jump in the water.
The NSW Government requires you to pay the NSW Recreational Fishing Fee and carry a receipt of the payment at all times. This applies when spear fishing, hand lining, hand gathering, trapping, bait collecting, prawn netting or in possession of fishing gear in, on or adjacent to waters. You can purchase this licence for a little as 3 days for $7 or 3 years for $85. Details on purchasing can be found at the bottom of this article. If you are under 18 there is no need for a license and for other exemptions head to the website below.
If reading this has you converted and you're ready to give fishing a go, be sure to check out some of our favourite fishing spots which not only have plenty of species ready for you to catch but provide you with a picture-perfect backdrop as you sit back and relax.
Recommended locations include Athol Bay, Bantry Bay, Castle Rock, Refuge Bay, Smith's Creek, The Basin, Morning Bay and Pinta Bay. For details on fishing in Sydney Harbour and the consumption of seafood in this area due to elevated levels of dioxins visit https://www.dpi.nsw.gov.au/fishing/recreational/fishing-skills/fishing-in-sydney-harbour for more info.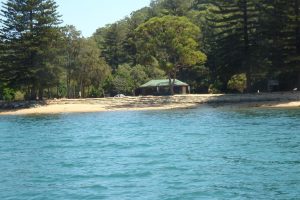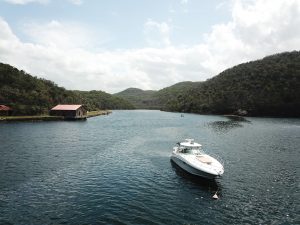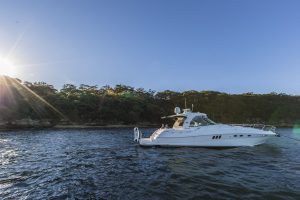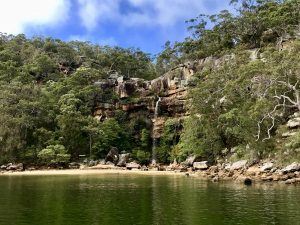 Best of luck and as they say in the TV shows: "Tight Lines!"
Your Recreational Fishing Fee can be purchased:
by calling 1300 369 365 (Visa and Mastercard only)
from hundreds of standard and gold fishing fee agents
from most Kmart stores in NSW