Winter and the beach are two things that you probably wouldn't put together… unless of course, you live in Sydney. While the colder months definitely bring some frosty days, we are so lucky to still enjoy blue skies and mild temperatures for the most part. With tourists few and far between it's the perfect opportunity for locals to venture out and explore Sydney's waterways without breaking a sweat.
With swim suit season well and truly over, the winter months are the perfect time to make the most of Balmorals all-star food and beverage line up. From fish and chips on the beach to fine dining, this family friendly haven has something for everyone. Pacific Boating checks out a few favourites.
The Boathouse
A trip to Balmoral wouldn't be the same without a visit to The Boathouse. With the kiosk sitting literally on the water, it's the perfect place to sit back, relax and enjoy your morning coffee without having to set foot off the beach. The laidback vibe is perfect for those with littles ones who can play on the sand in eye shot while the adult's recharge with some much-needed caffeine (or a cheeky glass of vino). We all know it's the little things that make a dining experience great and The Boathouse doesn't skip a beat, even their cappuccinos are dusted with a chocolate anchor design. All your usual brunch favourites are featured as well as a bunch of seafood lunch options. If you're looking to share, look no further than their Seafood Platter which has everything from Sydney rock oysters to snapper ceviche.
The Boathouse is open 7 days from 7am – 4pm.
No booking Required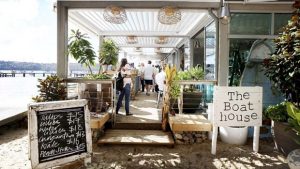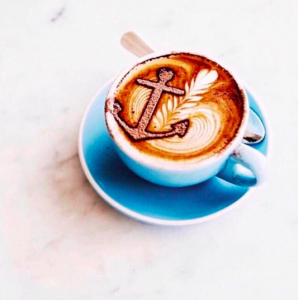 Public Dining Room
If the name doesn't give it away, Public Dining Room is right in the middle of the action. The modern, unfussy aesthetic oozes sophistication through its attention the detail and is offset by the diverse mix of beachgoers that sit just on the other side of the floor to ceiling windows. Its seasonally driven menu is focused on showcasing local ingredients and is matched by a pretty impressive wine list. From rolled lobster to slow braised wagyu beef ragu, the assorted menu is perfect for those looking to celebrate a special occasion. Ironically, Public Dining Room is known for its private dining spaces for small and large-scale events because let's be honest, it's hard to top that view. While the price point is definitely on the higher side they offer BYO Wednesdays for $5 corkage and $1 oyster Thursdays for those looking for a mid-week bargain.
Public Dining Room is open 7 days
Mon – Fri: 12pm – 3pm, 6pm-9pm
Sat – Sun: 8am – 10am, 12pm – 3pm, 6pm-9pm
Bookings suggested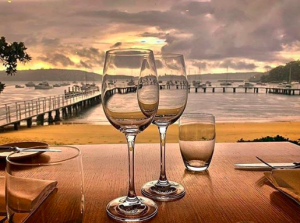 Bathers
Another Balmoral institution that is definitely worth checking out is Bathers. With views towards the heads and middle harbour, the heritage-listed building has two dining options to suit any occasion. If you're passing through Balmoral looking for a quick bite or a coffee, the café is where you want to head. Open for breakfast, lunch and dinner everyday Bathers offers Mediterranean style food in a casual atmosphere. A big draw card for those chilly winter months is the open fireplace that cosies up the room as you take in the picture-perfect surroundings.
The restaurant boasts an eclectic French inspired menu designed by Executive Chef/Owner Serge Dansereau who favours fresh, local produce. The a la carte menu has plenty of seafood options that you would expect when waterfront dining as well as some hearty winter options like slow cooked pork cheek and lamb rump. With over 350 wines to choose from it's lucky they have sommeliers on site to help you find the perfect match. For first timers we recommend the Degustation menu because if you're anything like us you will struggling to choose just one. Vegetarians rejoice as there is a full vego menu on offer too.
Bathers Pavillion is open 7 days 7am – 10pm
No bookings required for Café
Bookings required for restaurant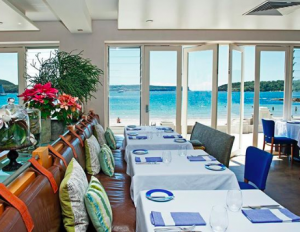 Bottom of the Harbour
Our Balmoral dining list wouldn't be complete without a good old fish and chippery. While it may not be fine dining, don't underestimate this local treasure that has a line down the block almost every day in summer. All the usual suspects are on offer from fisherman's baskets to grilled salmon and is the perfect bite when exploring Balmoral. Perfect for families or an afternoon snack, there is nothing more Australian than sitting on the beach with your flake and chips. While there are a couple of tables out the front, grab your food to go and take the short walk over the bridge to Rocky Point Island and watch the sunset for a unique but breath-taking dining experience where shoes are optional.
Bottom of the Harbour is open 7 days 9am – 8pm