And we're back with part 2 of our 30 adventures in 30 days with more exciting outings around Sydney for you and your crew! With so many amazing sites scattered around we must admit we are having a bit of trouble narrowing it down to just 30. As we continue to work our way around the city both on and off the boat, our list continues to grow. From sun baking to sunsets we've covered them all so you can make the most of your free time without having to jump onto the old Google for inspiration. Here's the next 10 adventures that will get you out of the house and enjoying Sydney's breath-taking seaside spots!
Beers & BBQ at Athol Bay
Tucked away around the bay from Bradley's Head is a little piece of paradise called Athol Bay. Comprising of two intimate beaches each around 100m in length. While it's safe to say that just about anywhere around the coast makes for the perfect BBQ spot, Athol Bay is offering the best of both worlds in terms of picture-perfect backdrops where the city and your natural surrounds come together.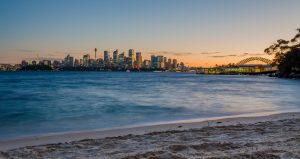 Athol-Bay-reference-flickr.com_.jpg
**This destination is within the PB access area. Photo credit Flickr.com
Quarantine Station Refuge Bay
For many of us, understanding the fascinating historical past of Sydney doesn't go much further than what we learnt in primary school. Now you could get up to speed with one of the many walking tours on offer where you and a few busloads of tourists learn a little something or you can take your boat up the northern beaches to Quarantine Station and actually enjoy your day. Go for a walk around the heritage listed site or take a ghost tour if you dare! We won't give too much away before you go but the name quite literally spells out its troubled past.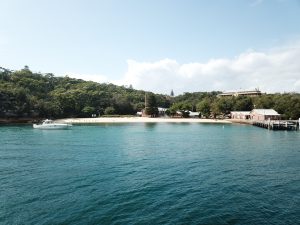 **This destination is within the PB access area.
Wakeboarding at Broken Bay
The best places can only be accessed by boat and Broken Bay is no exception. Just an easy 60-minute cruise from metro Sydney, Broken Bay's semi-mature-tides make it the perfect adventure for water sports. With 650 hectares of undisturbed natural surroundings, the bay is your oyster. Bring your equipment with you or hire it when you get out there with all amenities available on site. The Hawksbury is one of our favourite destinations for all things sport with more than enough room for everyone to coexist without being on top of each other. The Broken Bay Sport & Recreation Centre has everything you will ever need plus loads on land activities that will keep the family entertained all day long.
**This destination is not within the PB access area.
Long Lunch at Church Point
It's no secret how much we love Church Point. Not only is it one of our PB hubs, but its small coastal town feel is what keeps us going through the work week. There are so many amazing spots that showcase fresh, local produce that will satisfy anyone's taste buds. For us it's all about the seafood (surprise, surprise) and there is no shortage up the Northern Beaches. We can't tell you how many times lunch has turned into sunset drinks when dining at Church Point. With the champagne following and the crystal-clear waters glittering there is no better place to relax.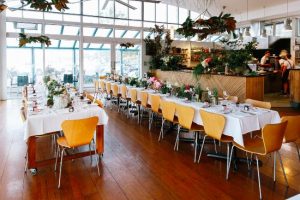 Long-Lunch-at-Church-Point-reference-trip-advisor.jpg
For a list of our favourite dining spots in Church Point head to https://www.pacificboating.com.au/waterside-dining-churchpoint/
**This destination is within the PB access area. Photo credit Trip Advisor
Fishing at Bantry Bay
While there are so many exciting activities you can enjoy on the water, we challenge you to take it back to basics. Fishing is one of our favourite family friendly activities that will not only keep the kids occupied but can be enjoyed with a stubbie in hand or a glass of bubbly. Other than remembering to pack a line, there is very little effort required in catching a delicious feast (or at least have fun trying) for your guests while enjoying the scenic perfection that is Bantry Bay.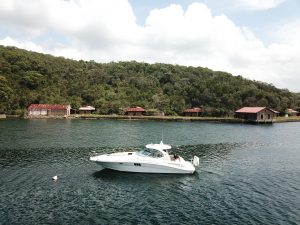 **This destination is within the PB access area.
Sunset at Queens Avenue
Nothing brings us back down to earth like watching the sun go down on this amazing city. While there is no shortage of spots you can enjoy this daily event, there are some places that far surpass the rest and Queens Avenue Vaucluse is one of them. With 280-degree views of the city and Harbour Bridge you can sit back, relax and watch the buildings become silhouettes all from the comfort of your vessel. If you're over the standard dinner and a drink, leave the little ones at home and enjoy dusk on the Harbour for the ultimate date night spot.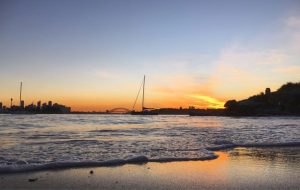 Sunset-at-Queens-Ave-reference-trover.com_.jpg
**This destination is within the PB access area.
Exploring Cockatoo Island
It's funny how many Sydneysiders who have lived here their whole lives haven't been over to Cockatoo Island. Located smack bang in the middle of Sydney Harbour, it's a UNESCO World Heritage Site that represents the complicated and layered past of this multi-purpose island. It's definitely worth spending the day out there and making the most of all the fascinating and educational activities on offer like steam crane demos or a tour around the convict precinct.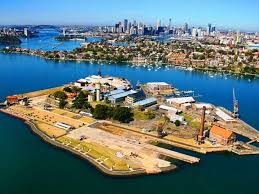 Cockatoo-Island-reference-agoda.com_.jpeg
**This destination is within the PB access area but no moorings or berths available .
Relaxing at Chinamans Beach
When people think of Mosman, they go straight for Balmoral where in school holidays it's about a hard to find a spared patch of sand as it is to find a park. Don't get us wrong Balmoral's calm waters and fabulous dining spots are fabulous but when you're looking for a day of uninterrupted sun and relaxation, Chinamans Beach is our lower North Shore go to. Anchor at Shell Cave and dive into the sparkling waters while you admire the serious real estate that fills the slopes above. Trust us you want to look up!
**This destination is within the PB access area.
Overnight at Bar Point
With so much water to cover when exploring the Hawkesbury, it only seems right to make a weekend of it. Just 53km from Sydney it's an easy cruise for an overnight that guarantees privacy. With just 362 residents in the area, Bar Point is the perfect spot to get away from it all and recharge. Make sure you pack the essentials though as amenities are not as accessible as other spots on the Hawkesbury. For us there is nothing better than undisturbed cruising and Bar Point allows for just that.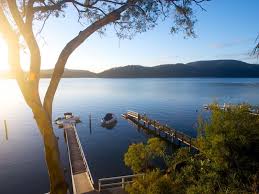 Overnight-at-bar-point-reference-realestate.com_.au_.jpeg
**This destination is not within the PB access area.
Kayaking at the Narrabeen
The Northern Beaches is a mecca for water activities and Narrabeen is a crowd favourite. There is no shortage of companies offering a range of activities around the Lake so don't worry about equipment. If you haven't tried kayaking, we strongly encourage you to get out there and give it a go. Not only is it super fun, but you have so much flexibility in where you can explore. Leave no waters unseen we always say!
**This destination is not within the PB access area.