Part three of our adventures takes us all across the city with 10 more ways to make the most out of your Pacific Boating membership or general cruising and outdoors  lifestyle. From beach walks to picture-perfect sunsets, explore Sydney from the comfort of your vessel with the final instalment of our 30 adventures in 30 days series!
Snorkelling at Gordons Bay
Tucked conformably between Clovelly and Coogee, Gordon's Bay is one of Sydney's hidden gems that is equally as stunning above and below sea level. This tiny little slice of heaven is perfect for families looking to jump off the boat and explore their surroundings. Gordons Bay is the only Sydney destination that has a dedicated underwater nature trail that guides you through the breath-taking scenery sitting under water. Follow the sunken drums that have info on all the different species that call this bay home and enjoy the crystal-clear waters that Gordons Bay is famous for.
**This destination is not within the PB access area.
Relaxing at Bilgola Beach
I know we talk a lot about picturesque beaches because we have so many in Sydney but if you haven't already, you have to experience Bilgola Beach in all its glory. For such a tiny beach it's sure to leave a lasting impression with palm trees, flowers and aqua blue water. Beaches like this were made for Pacific Boating members as we really wouldn't recommend trying to get to it with any other form of transport (unless you leave at 5am and beat the traffic). If waves aren't really your thing or you have little ones, there is a fabulous freshwater pool too.
**This destination is not within the PB access area.
Sunset at Mona Vale
One can never see too many breath-taking sunsets in their life and so if you're looking for a romantic spot or just happy to see the back of another draining week at work, drop the anchor at Mona Vale (the views are sure to bring you back to life). If you're after a standard, run of the mill sunset then this is not the place as no two days are ever the same. Rainbow sunsets and calm waters are a regular fixture at Mona Vale and should be enjoyed by all. Do yourself a favour and head north for one of the most magical settings we have in Sydney.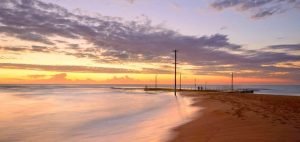 **This destination is not within the PB access area.
BBQ & Beers at Milk Beach
As Australians, is there really anything that we love to do more than have a BBQ and a beer with our nearest and dearest? That's what we thought… While the activity itself is pretty self-explanatory, enjoying our favourite past time at the one and only Milk Beach makes this activity that much more appealing.  Escape the crowds of Manly, Bondi or Balmoral and head to Milk Beach in Vaucluse for a relaxing day with some pretty special views of the city.
**This destination is within the PB access area.
Hermitage Foreshore Walk
Sometimes it's nice to jump off the boat and experience the coast by foot. While we have a plethora of beach walks here in Sydney, the Hermitage Foreshore Walk is one of our favourites as it can be done in around an hour. The walk itself is 1.8km and takes around 30 mins to get from Nielsen Park to Bayview Hill Rd (1 hour round trip). Along the way take in panoramic views of the Harbour Bridge and Shark Island as well as some charming Harbour beaches. Work up an appetite or walk off a big lunch before continuing on your adventures.
**This destination is within the PB access area.
Overnight at Avalon
It might only be 37km from the city, but it feels like a million miles away. Avalon is one of our favourite spots to retreat for a mini break over the weekend. There is so much to do and great places to eat, drink and be merry. Head to shore and browse the many local boutiques along the main drag and get some sun time at the beach before retreating back to your 5-star accommodation for the night. Watch the sunset and grill some fresh seafood on the BBQ and let the ocean tide rock you to sleep. For all the morning people, head out on deck and watch the sunrise to start your day off right.
**This destination is not within the PB access area.
Wakeboarding at Lake Illawarra
Even on the water, it can be hard to get the kids off their phones and enjoying the fresh air. We have found that if you add wakeboarding to the itinerary, they are twice as likely to participate in the day without the assistance of social media. Lake Illawarra is the perfect place to bring the family together and put your balance to the test. Rent all the equipment at one of the on-site vendors and spend the day practicing your skills. While we can't guarantee you will be doing air flips, we can guarantee some serious laughs as you try.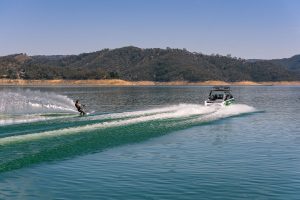 **This destination is not within the PB access area.
Long Lunch at Barangaroo
For the better part of a decade, we have watched the stevedoring wharfs at East Darling Harbour transform into the stylish precinct we see today. With new restaurants popping up almost daily to create a melting pot of culinary perfection on our Harbour foreshores, Barangaroo has the kind of WOW factor that can only be felt in the heart of the city. While this mammoth project is not due to be completed until 2024, we already have a strong line-up of favourites including Love Fish, Cirrus, 12-Micron and Phomo that are all perfect to host your next long lunch.
**This destination is within the PB access area.
Fishing at Castle Rock
While there are so many exciting activities you can enjoy on the water, we challenge you to take it back to basics. Fishing is one of our favourite family friendly activities that will not only keep the kids occupied but can be enjoyed with a stubbie in hand or a glass of bubbly. Other than remembering to pack a line, there is very little effort required in catching a delicious feast (or at least have fun trying) for your guests and Castle Rock is the perfect place to do it with their crystal clear and calm waters.
**This destination is within the PB access area.