One of our favourite days to spend out on the water is Boxing Day. When the sun is shining and the Christmas cheer has yet to wear off, there is no better time to rally the troops and continue the festivities from our favourite place in the city. Whether you're feeling like checking out the start of The Sydney to Hobart Race, a day trip up to the Northern Beaches or scoping out potential vantage points for New Year's, the key to the perfect Boxing Day on Sydney's waterways is relaxation. With so many great spots to anchor, no matter where you end up, you're in for a treat. If you still haven't locked in your plans, don't stress because we have put together some suggestions so you don't have to.
Northern Beaches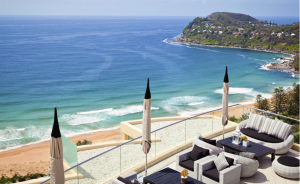 Image Credit – Rad Season
Where to eat:
Q Station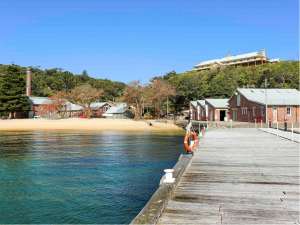 Image Credit – Booking.com
Celebrate the start of the Sydney to Hobart at one of Sydney's most historic locations. Q Station is the perfect spot for a long lunch with multiple packages for Boxing Day. Sit back and watch the boats pass by while enjoying a delicious seafood lunch and bottle of wine.
Manly Wine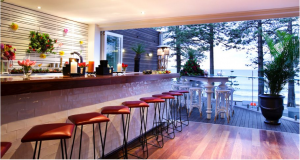 Image Credit – Manly Wine
Transport to Japan with Manly Wine's Cherry Blossom Garden. With lush floral installations complimenting the already killer view, feast on the tasty flavours of Japan with a cheeky cocktail to match. If you're on the hunt for some good old fashion fish and chips, steaks or any other of their classics, the regular menu is also there to choose from.
Where to Swim:
Spring Cove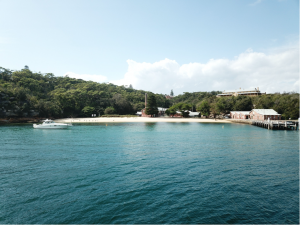 While we all know and love the Northern Beaches, in the Summer months it can be difficult to find a secluded spot to take a minute with your friends and family and enjoy a nice glass of wine on the water… queue Spring Cove's three beaches: Collins, Store and Quarantine, which not only provide the perfect escape from the city without actually having to leave, but has been known to attract a Manly local – the fairy penguin.
Its natural beauty is why Sydney is one the most exciting harbour cities and exceeds all expectations by blending three charming beaches into the perfect unwinding experience. Incorporating Collins Beach, Store Beach and Quarantine Beach, this natural enclave highlights the best of what Sydney has to offer through its simplistic natural beauty that is sure to relax even the busiest of people.
We always advise care when swimming.
Where to Explore:
Manly Scenic Walkway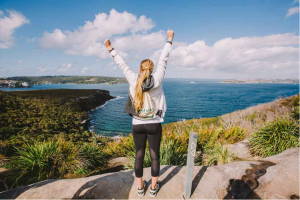 Image Credit – Sydney Coastal Walks
While we aren't proposing that you embark on the 19.5km hike from the Spit to North Head, there are so many gorgeous spots along the way that you can take an easy stroll after lunch.
Some of our favourite stop include:
Castle Rock Beach
Grotto Point Lighthouse
Washaway Beach
Dobroyd Head Lookouts
Reef Beach and Forty Baskets Beach
Shelly Beach
Shelly Headland Lookouts
Bluefish Track
The Barracks Precinct
Hanging Swamp
Gun Emplacements
Australia's Memorial Walk
Fairfax Lookout
North Fort
Where to Play:
Shelly Beach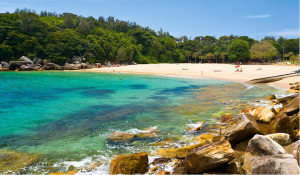 Image Credit – Australian Traveller
Bring a picnic and let the kids run free exploring the rocky surroundings. Grab yourself a coffee at The Boathouse Kiosk which is literally on the beach before heading over to the Fairy Bower Rock Pool that is just a short stroll away. For those who are more interested in water activities. Be sure to check out the reef that is perfect for snorkelling.
Little Manly Cove
Image Credit – Ocean Pools NSW
If you're on the hunt for a little piece of paradise that is away from the hustle and bustle of Manly, Little Manly is the perfect spot. Not only does it have shade, seclusion and some of the bluest water around, it also has a playground for the little ones. While the kids play, the adults can grab a coffee and chill out at the café on site.
Sydney Harbour
Where to Eat:
Nicks Seafood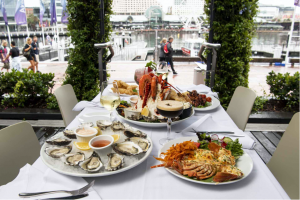 Image Credit – Darlingharbour.com
Somewhat of an institution on the Cockle Bay Promenade, Nicks mouth-watering seafood masterpieces are not to be missed. With their 'sea to plate' philosophy that hinges on pairing locally sourced produce with fresh flavours, the HUGE menu has everything you could ever dream of in terms of seafood.
Cargo Bar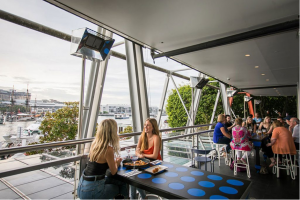 Image Credit – Cargo Bar
While most people know Cargo as a night club, it is also home to some pretty delicious food and drink. Located on Kings St Wharf, their street food style menu has all the classics like chicken parmas while serving up some more complex flavours like Maple Salmon and Dukkah and Lime Squid. Cargo's sleek New York vibe is the perfect place to watch the sun set with a delicious cocktail in hand.
Where to Swim:
Athol Bay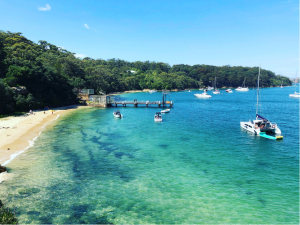 Image Credit – Reddit
Tucked away around the bay from Bradley's Head is a little piece of heaven called Athol Bay, comprising of two intimate beaches each around 100m in length. While it's safe to say that just about anywhere around the coast makes for the perfect swimming spot, Athol Bay is offering the best of both worlds in terms of picture-perfect backdrops where the city and your natural surrounds come together. We always advise care when swimming at any harbour side location.
Where to Explore:
Bradley's Head to Chowder Bay Walk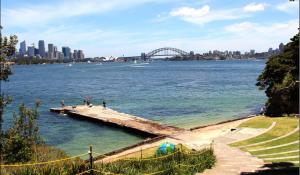 Image Credit – Sydney.com
Weaving around the harbour it features all the iconic stops along the way including Taronga Zoo, waterfront heritage listed buildings and of course, million-dollar harbour views. You honestly cannot get more Sydney than this. It's an easy walk for all fitness levels and has plenty of spots to have a break and take it all in.
Where to Play:
Clifton Gardens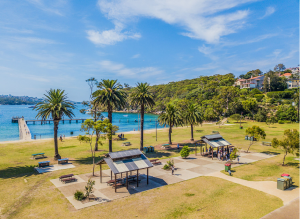 Image Credit – Grillex
A favourite for kid's birthday parties and play dates, Clifton Gardens is our go-to for kid friendly activities. With its super calm waters and epic playground, it provides hours of entertainment. For the teens, there are full BBQ facilities where they can chill and soak up the sun or even head off on a stroll along the coastline and get some snaps for Instagram.
Balmoral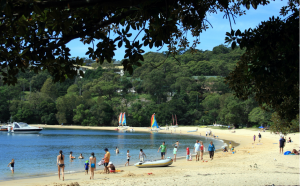 Image Credit – Wikimedia
Like Clifton Gardens, its nautical themed playground is perfect for spring and summertime adventures as its completely in the shade. While the little ones tire themselves out, why not grab a cold drink at one of the many cafes and eateries all within eyeshot of both the playground and the enclosed jetty. The jetty is a favourite for kids and adults alike where you can jump into the crisp blue water.
Eastern Suburbs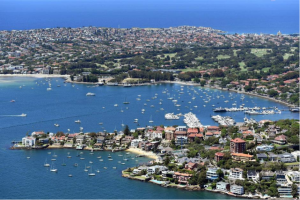 Image Credit – ABC
Where to Eat:
Catalina Rose Bay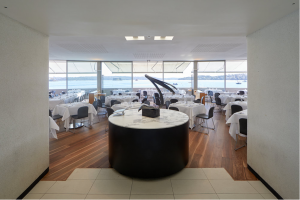 Image Credit – Catalina
When you think of quintessential Sydney waterfront dining, it doesn't get much better than Catalina Rose Bay. With first class views and a mouth-watering menu to match, it's no wonder it attracts the who's who of Sydney. While the menu changes daily, it's a safe bet you'll always find snapper, scallops or barramundi on the menu.
Watsons Bay Boutique Hotel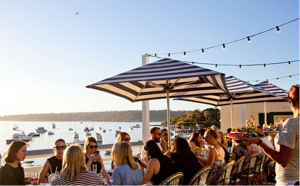 Image Credit – Watson Bay Hotel
If you're wanting the laidback vibes to continue from sea to land, the Watsons Bay Hotel is the ultimate summer spot. Settle in amidst their signature blue and white umbrellas for a beach club experience with the added bonus of uninterrupted views of the city. Feast on sashimi tasting plates, freshly shucked oysters and chilled seafood feasts designed to complement a crisp summer cocktail or glass of vino.
Where to Swim:
Gordons Bay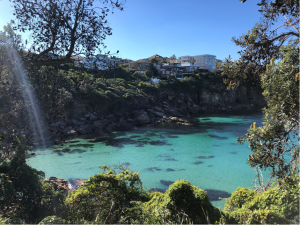 Image Credit – Reddit
Tucked comfortably between Clovelly and Coogee, Gordon's Bay is one of Sydney's hidden gems that is equally as stunning above and below sea level. This tiny little slice of heaven is perfect for families looking to jump off the boat and explore their surroundings. Gordons Bay is the only Sydney destination that has a dedicated underwater nature trail that guides you through the breath-taking scenery sitting under water.
Queens Avenue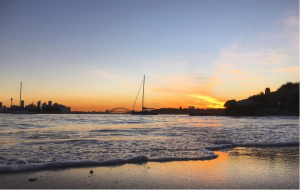 Image Credit – Visit Sydney
Fancy a sunset swim?
Nothing brings us back down to earth like watching the sun go down on this amazing city. While there is no shortage of spots you can enjoy this daily event, there are some places that far surpass the rest and Queens Avenue Vaucluse is one of them. With 280-degree views of the city and Harbour Bridge you can sit back, relax and watch the buildings become silhouettes all from the water.
Where to Explore:
Watsons Bay Lighthouse Walk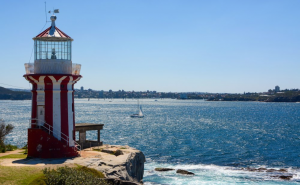 Image Credit – Sydney Expert
A favourite amongst locals and tourists, Watsons Bay is known as one of Sydney's most idyllic waterfront suburbs. So naturally the walking trails around there are going to 10/10. Starting at Watsons Bay, take your time as you wind around to one of our favourite spots Camp Cove and take in Sydney's picture-perfect South Head before arriving at Hornby Lighthouse. Aside from the epic views, the shorter distance of this walk makes in a good one for the whole family.
Where to Play:
Parsley Bay Reserve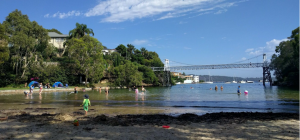 Image Credit – Parra Parents
Vaucluse is synonymous with opulence and splendour and its beaches are no exception. The picturesque Parsley Bay is a small cove bound by lush flora, caves and rocky exteriors. If you like your beach days with a little adventure head along the short bush track to the waterfall. Parsley Bay comes with a full list of amenities including picnic facilities, a playground, toilets and a café.
Castle Rock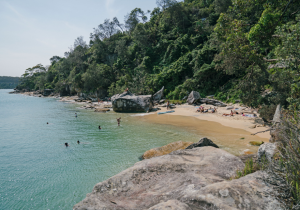 Image Credit – Broadsheet
While this may not be specifically a beach destination (although there is a beach), we challenge you to take it back to basics. Fishing is one of our favourite family friendly activities that will not only keep the kids occupied but can be enjoyed with a stubbie in hand or a glass of bubbly. Other than remembering to pack a line, there is very little effort required in catching a delicious feast (or at least have fun trying) for your guests and Castle Rock is the perfect place to do it.
The Sydney to Hobart Yacht Race
and of course a Boxing Day Tradition is to watch the spectacular start of this iconic race on the Harbour or from many of the vantage points around North and South Head. A bucket list must do!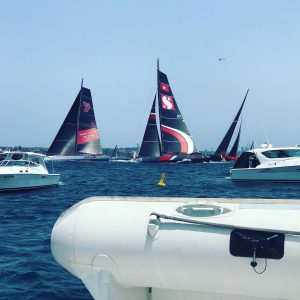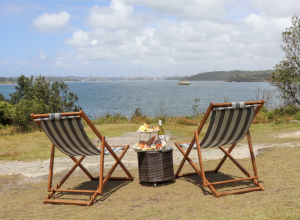 Image Credits – Pacific Boating and Q Station