Scott Rudgley has previously been in Sales and Account Management roles in Property Marketing and has recently joined Sekisui House as Head of Marketing. In these and in fact any B2B or B2C role  it is important to be on the lookout for unique experiences to share with both clients, management and the sales teams. Scott has been a Member for 4 years and has offered suppliers, clients and executives from headquarters internationally the wonderful unique cruising experiences on Sydney's beautiful waterways that only a Pacific Boating Membership can provide.
"While I have been fortunate enough to travel all over the world and see some pretty amazing things, I can honestly say that there is nothing like cruising up the Northern Beaches on our Pacific 52 with a day of relaxation ahead of us. We really do like to live Pacific Boating's slogan of "taking your board room on board""
"We have had our Pacific 52 Class Membership for 4 years now and use it for everything from client entertainment to strategy days. As it is used for primarily corporate events, it was important for us to have the comfort and amenities that the Pacific 52 provides. When hosting clients, the bar is a little bit higher than if it was just your family enjoying a day out on the water and we were really looking for that WOW factor to share as they explore Sydney's coastline. While we typically stop off at a waterfront restaurant for a long lunch, we have also made the most of the on board facilities with a few snags hitting the BBQ from time to time. We love the flexibility that the Pacific Boating lifestyle allows us to share with our clients. We can customise the day to suit a particular guest and make sure that every experience is a unique one.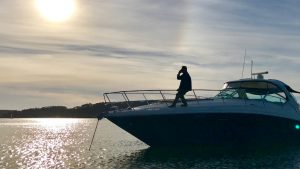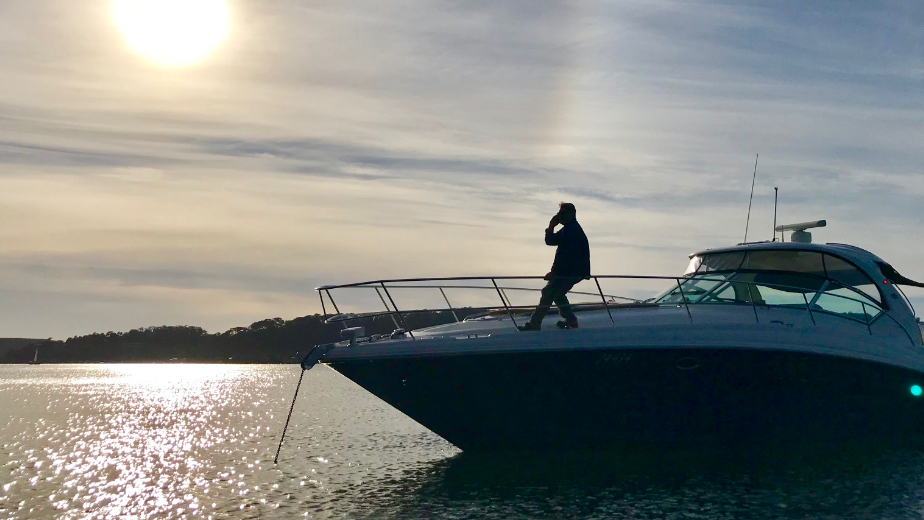 As I'm sure many can appreciate, in business things just come up and you have to roll with the punches. On many occasions, we have had clients visit with very limited notice and we have had to put together a day of entertainment in a heartbeat. **queue Pacific Boating**. Their flexibility and the availability of their vessels has saved us on more than one occasion and being able to walk on and walk off is a huge plus when you're trying to host a luxury experience. The booking process is state of the art and from a business perspective I can appreciate their heavy investment in streamlining this process.
While we predominantly utilise our 52-class membership to entertain our clients, the nature of Sydney's waterways really lends its hand to all events. We've held strategy days where you can pull into a quiet spot with limited distractions (yes we know all the no service spots), team building days and hosted clients in a number of different formats including evening Vivid Festival cruises and sunrise brunch cruises – our industry is relationship based so getting clients into a relaxed, enjoyable setting builds stronger relations that would typically take years of office meetings/lunches."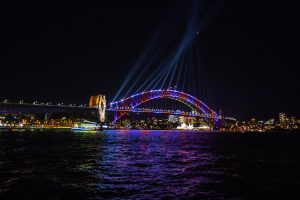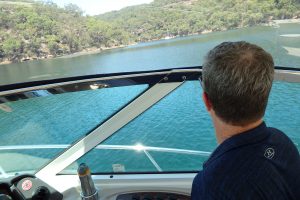 For Scott, probably the biggest asset of a Pacific Boating Corporate Membership is its flexibility. For businesses looking for a different offering for clients and your team, it's a fantastic tool to have in your company's back pocket. Scott had no previous boating experience as is the case with almost 50% of Pacific Boating's members. The PB team facilitates all of the training that you need to get out on the water and if anything goes wrong, they are there 24/7 to help. They take all of the responsibilities that you don't need to be worrying about so that you can really focus on that precious time that you have to strengthen your relationships with your clients.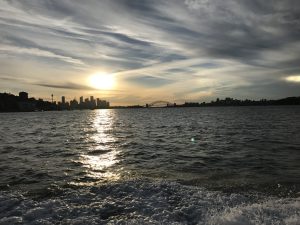 "With 4 years down, there are many still to come! I highly recommend this luxury experience membership to all businesses looking to stand out from the crowd."