…and welcome to 2023!
New Year's Eve 2022, here we go again!
We've all had good ones; we've had bad ones and we've had ones that we down right just don't remember. No matter how you choose to spend the night celebrating not only a new year but a new decade, we are so lucky here in Sydney to have world class activities on offer. From arguably the most spectacular fireworks display, to the amazing events across every suburb, New Years in Sydney attracts quite the crowd – like over 1 million people kind of crowd.
If you're a Sydney local, chances are you've done the Harbour foreshore at least once and the memories of being packed in like a bunch of sardines with kids and grandparents and picnic baskets and crazy long lines for the bathrooms are enough to leave your pj's on and switch the lights out before the clock strikes midnight.
If only we were one of those lucky people who can enjoy New Years from the best spot in the house (or in this case harbour), on the water itself….
You know where we are going with this.
With sparking moonlight waters below and excitement in the air, New Year's Eve on Sydney Harbour is nothing short of magic. Picture unobstructed views of the fireworks, your friends and family around you in the comfort of your vessel and a fully stocked fridge keeping the drinks and snacks cold. We could keep going but some things need to be experienced first-hand.
For PB members that head out on the water on the 31st, the celebrations start as early as the morning. While your vessel provides you with some personal space, there is no shortage of boats heading out on the busiest night of the year and trust us, you want to get a prime position. We see most of our boats head out late morning/early arvo so everyone can get settled before the party really gets going. Once you're safely anchored, the day is yours to sit back and relax with some good food and good company.

Where To go?
In terms of key vantage points, we have a couple up our sleeve. Of course being right in the thick of it is guaranteed to provide killer views, but there are many other spots scattered around the city's surrounding waters that our members have found to be just as special. Bradley's Head is a crowd favourite but it's best to get in early. Athol Bay on the western side of Bradley's Head is the perfect little pocket with panoramic views of the city and a great beach for daytime activities. Still northside, Cremorne Point and McMahons Point both offer views that will knock your socks off with a nice distance away from the hustle and bustle or the Harbour itself. For those heading out from the east and west, Balmain and Birchgrove are great spots to set up shop too.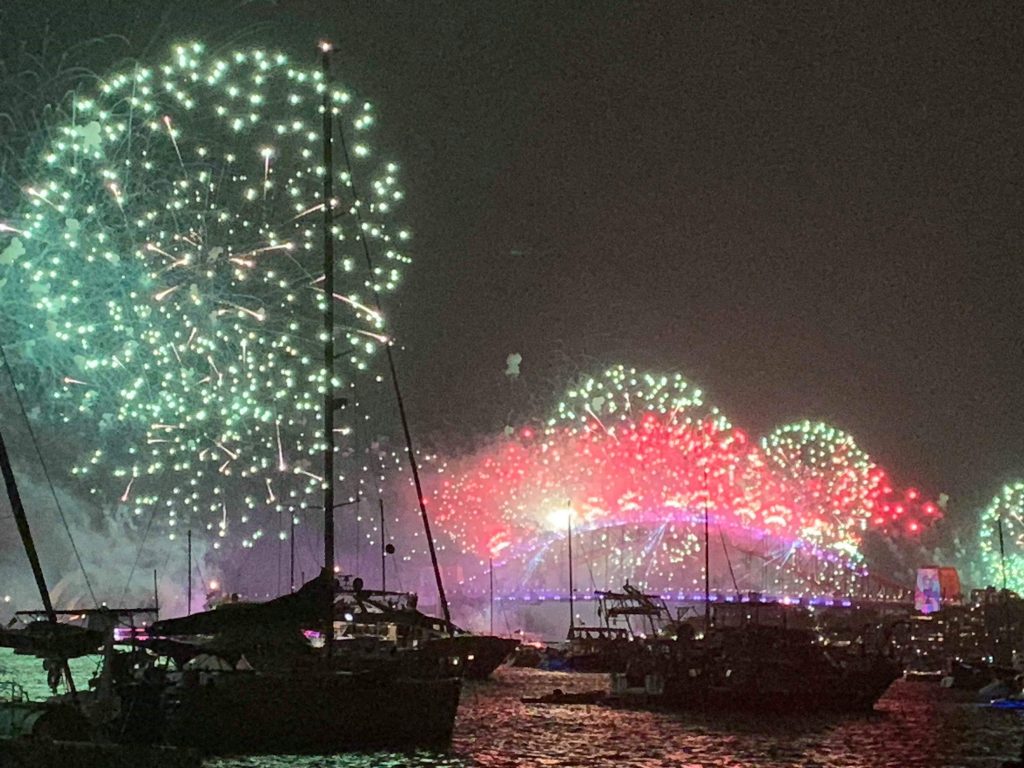 What To Expect
By the afternoon, the festivities will be in full swing. Good vibes flow up and down the coastline as fellow boat lovers get ready to cruise into the new year. The champagne is flowing, resolutions are being set and the 9pm fireworks are right around the corner. After spending most of the day on the water, you don't want to be caught with your supplies getting low because at this point, you aren't going anywhere. New Year's Eve is not the time to be modest with your food or beverage consumption, so this is the one time we suggest over packing. You can always bring it home, but you can't manifest it once you're out there. Remember plenty of water!! Oh, the irony of being surrounded by water with nothing to drink.
On any day, spending the night in Sydney Harbour is an unforgettable experience. On New Year's Eve it's one for the ages. As the party continues overnight, there is nothing like waking up to a New Year surrounded by friends, family and one hell of a view. With Pacific Boating we make what is typically a stressful lead up seamless and hassle free.
Regardless of what your stance is on the upcoming festivities and if there is something we can all agree, it's that it's nothing short of spectacular.
We wish you all a safe and Happy New Year ahead!