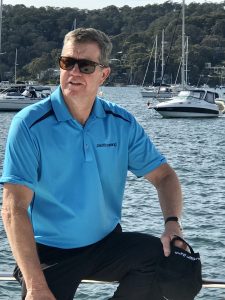 Phillip Pitt Managing Director of Pacific Boating answers some of your most frequently asked questions…
Having been in the boating business for the better part of two decades, we've seen and heard all of your queries. If you have been thinking about membership but want to know a little more before progressing further, here are a few of our most frequently asked questions and answers.
Hopefully this will help you get out on the water sooner.
What do you mean by walk-on-walk-off?
You've probably seen by now that we talk a lot about the convenience of our walk-on-walk-off model, and we mean it. We are dedicated to providing our members with the easiest, hassle-free service by taking care of everything behind the scenes. Boat ownership requires you to not only live your best life on the water, but also be responsible for mooring, maintenance, fuel, cleaning and more. Not only are these tasks energy consuming, they are also costly. Choosing a membership option means that all of these things are taken care of by us.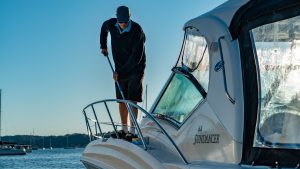 Your only responsibility is enjoying the time you are on your vessel.
I can't drive a boat; can you teach me?
Absolutely. 50% of our members are new to boating when they join. Included in your Membership fee is a comprehensive practical training course on boat handling and familiarisation. Throughout the PB Daytime Boat Handling Training, our team will also share their insights into Sydney's waterways from hidden beaches, to the best fishing spots and the more dangerous areas and those that have specific rules in place.
Our Pacific Boating Daytime Boat Handling Training is carried out over two days in four sessions.
 Session 1 – the basics.
We take you over the boats, show you how everything works, how to operate all safety equipment and gear and most importantly, what to do in an emergency. We leave no stone unturned from operating the barbeques, toilets and light switches to safe stowage gear and deploying the tender. We also take you through how to tie the fenders to the boat and the boat to the marinas or wharves safely.
Session 2 – preparation
When it comes to boating, it's important to always be prepared.
We take you through the correct preparation of the vessel prior to being underway and supply you with pre-departure/pre-arrival checklists to get on and off the water sooner.
Session 3 – setting sail!
Session 3 familiarises you with anchoring, mooring, driving in proximity to other vessels, high speed manoeuvring and all the other fun stuff you have been waiting to try.
Session 4 – berthing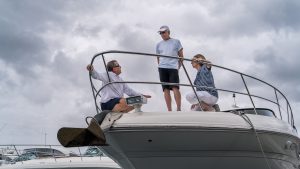 Berthing the boat is always the thing our new members find most challenging because let's be honest, it's not the easiest thing to get your head around.
Further training can be supplied on request if needed.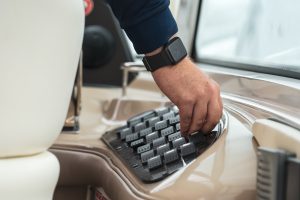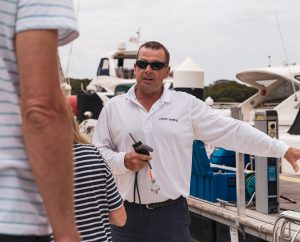 How many days a year can I use my boat?
Your initial membership allows you to book the boats for up to 24 days per year. This number is in line with the average member usage. Just think, every other weekend you could be cruising up and down the coast. On the contrary, in the cooler months when you may not be out as often, you are not suffering from the guilt of knowing your vessel is just sitting there costing you money.
But let's just say you want to use more than the allocated 24 days, what do you do then?
Our Standby system allows you to use the boats for a minimum additional daily charge if the boat is available. So, really you can head out whenever the boats are available.
 What about the holidays?
All PB members are welcome to join our holiday ballot. These are selected at random to make sure that it's fair for all and you can only be selected for one of the days each year. The three most popular holidays are New Year's Eve, Boxing Day and Australia Day. All other days are open for members to book as they please except for Christmas day and Good Friday when the Pacific Boating Team take a break
 How far in advance do I have to book and how?
Our premium online booking system lets you book anytime, anywhere. As long as your vessel is available, it's all yours! With memberships split into mid-week and full-week options, you shouldn't have many problems locking in your days. Either login to the customised membership management portal or contact our team and we'll do the rest!
Can I use the boat overnight?
Yes.
If you have a current Boating Licence and have been approved by us, you are free to enjoy Sydney's iconic waterways overnight. With all the amenities you and your guests will need for a luxurious stay, we definitely recommend it. Overnights means you have the freedom of travelling a bit further, watching the sunset and dining at your favourite spots around the coast. If you're after catering for a special occasion, we can help with that too, so you can enjoy 5-star services all night long.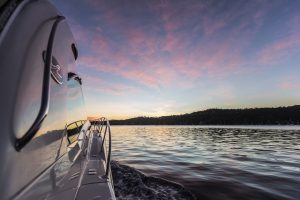 Am I covered by insurance?
Yes.
All members are under our Marine Insurance Policy so you can rest easy knowing that no matter what happens, you're covered. This is included in your membership fee so there are no additional costs for protection.
Is it an upfront fee or can I pay in instalments?
Yes, you can pay in instalments and in fact, we prefer you do. Membership payments are made up of a small joining fee and a membership fee which is paid monthly. There is a 12-month initial term after which you may cancel with three months notice. If you decide you want to upgrade mid contract there is no penalty to change, however the monthly membership cost will be adjusted accordingly.
What if something goes wrong while we are on the water?
As long as you are on your vessel, we are standing by in case anything happens. We are available 24/7 to help you with anything that comes up. For emergencies, you are supplied with all the relevant contacts for essential services. Our vessels are also equipped with safety gear including first aid and life jackets which we go through in depth in the onboarding process.
Can I change my class membership mid-contract?
Of course! Many of our members start with one of our smaller vessels to get a feel for the lifestyle, especially beginners. If you feel you have outgrown your vessel or are looking to step things up, you can upgrade at any time.
The Pacific 52 is licensed for 12 and sleeps 7 more than comfortably so you can turn your day into a weekend without feeling like a bunch of sardines. Housing generously proportioned cabins each equipped with a private head and shower, you can say goodbye to your bathroom roster and get back to enjoying Sydney's hidden gems with the people you love.
Designed with entertaining in mind, you can rest easy knowing that no matter what the occasion, this vessel has you covered. From casual BBQ's to formal catered events it has everything you need (and more) to wow your guests.
Our Pacific 44 cruisers are licensed for 12 and sleep 6 comfortably with separate cabins and a private shower giving you and your guests some much needed privacy, especially on overnight stays.
Perfect for those looking to host larger groups and have bespoke entertainment facilities on board, the 44-class membership gives you space to enjoy your surroundings.
Is it difficult to get access to a boat when I want it?
If you plan your boating in advance there is plenty of access available for everyone. Obviously the Summer holiday season is our busiest time and it will be difficult for you to jump on board at short notice. Our advanced booking model allows for every Member to book out a number of slots per quarter and we always recommend that this is the best way to enjoy Pacific Boating.
With things here in Sydney looking a bit grim as we move into 2021 it might just be time to think about trying something that you haven't tried before and while we hope that we will be able to all travel again one day soon why not experience the best that Sydney has to offer on board your own walk-on walk-off luxury sports cruiser with Pacific Boating.