There are so many ways you can make the most of Sydney's spectacular line up of beaches and coastline. While our preferred mode of transport is obviously by boat, we can appreciate that there are some other pretty amazing ways to enjoy this city's natural beauty.
While sunsets on Sydney Harbour and day trips up the Hawkesbury are given, what you may not know is of our amazing partnerships with other local businesses that expand your membership to so much more than simply renting a boat. For lack of a better cliché, it's a lifestyle – not a membership.
As part of our Member Get Member Promo Experience, we joined forces with Sydney Seaplanes to treat our members to a whole new way to experience Sydney's iconic waterways. We sent PB veteran Paul Garufi and new member Alban Staehli and their guests up into the sky for a bird's eye look followed by a long lunch at two of our favourite seaside spots.
Kicking things off at the picture-perfect Rose Bay terminal or from Sydney's beautiful Pittwater, our members boarded their aircrafts and headed off to enjoy two different but equally incredible days.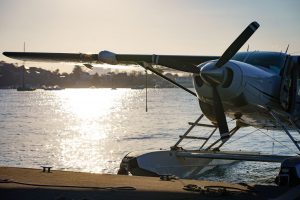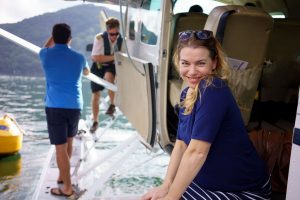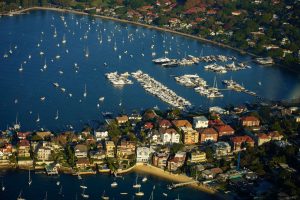 Catalina Rose Bay
Paul and guests headed straight up to unparalleled views of the world's most beautiful harbour. Cruising past the Sydney Harbour Bridge and Opera House, the unobstructed views of our famous cityscape is something that we encourage everyone to see at least once. But we're pretty sure once you get a taste for this exhilarating mode of transport, once will turn into many.
Upon arriving at Catalina, Sydney Seaplanes offers a 3-course lunch package where members can enjoy a glass of wine as you wait for your heart to return back to a normal rhythm. For those who haven't been to Catalina, this is an activity you could do all day, especially with their extensive food and wine lists. Oh, did we mention the view? If you were any closer to the water you'd be in it. After a much-needed aperitif, lunch is served featuring some Catalina signatures including Crispy Skin Cone Bay Barramundi, Sauteed Cuttlefish, Chorizo, Morcilla, Zucchini, Wild Rocket



Cottage Point
It's funny no matter how many of our members we see head up in the seaplanes, there is always a mix of excitement and slight fear before take-off. For Alban and guests who chose to leave the city behind and head up the northern beaches, the fear immediately turned to pure excitement as they began the 20-minute journey to Pittwater. After cruising through the heads, lunch at Cottage Point was next on the cards.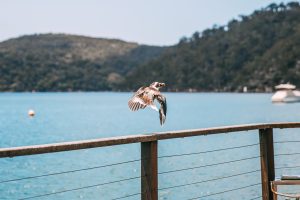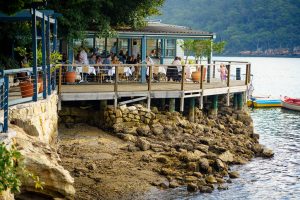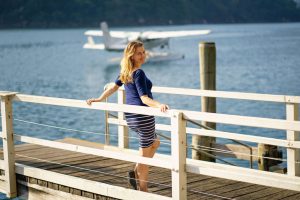 For those looking to really get away, Sydney Seaplanes offers and overnight escape at the Cottage Point Inn. With return flights and overnight accommodation at the luxurious Cottage point Inn's Cowan Waters Suite, turn off your alarm and treat yourself to a relaxing staycation. Enjoy pre-dinner drinks looking out at the Hawksbury River before a 3-course a la carte dinner created by head chef Kevin Solomon.
If you haven't already gathered by now, Sydney Seaplanes combines all of our favourite things – good food, good company and spectacular views of the coastline with the freedom to explore your way. Guess it makes sense that SS founder Aaron Shaw is also a member of the Pacific Boating family!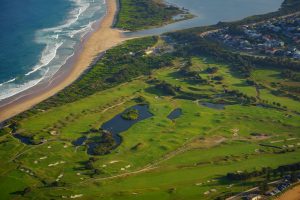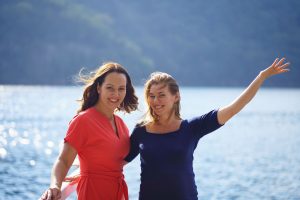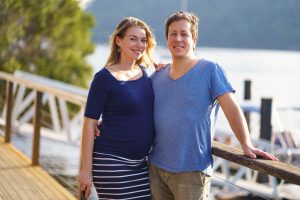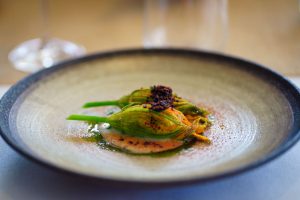 For those keen to keep yourself on sea level, both Catalina Rose Bay and The Cottage Point Inn are also accessible by boat. So, if you're after a long lunch or cheeky overnight getaway, these destinations are definitely worth the visit and whether you opt for the sea or the sky, the views are faultless.
For more information on all the different packages and destinations that Sydney Seaplanes has on offer head to https://www.seaplanes.com.au/
To find our more about Pacific Boating Membership https://www.pacificboating.com.au/how-it-works/