Stephen Hosking, General Manager of The Quays Marina at Church Point, reports on his epic Sydney to Hobart Adventure
December 26, 2019
6.05am
It's a mix of nerves and pure excitement when my feet hit the ground on Boxing Day. For the third year in a row my ritual remains the same. With my tummy still full of yesterday's Christmas celebrations, I pour myself a much-needed cup of tea and enjoy the steady ground that is under feet for a just little longer.
Thermals – Check!
Headtorch – Check!
Toothbrush – Check!
Shower time.
8.00am
I hop out of the uber and the calmness of my kitchen is replaced with the budding excitement that fills the CYCA Yacht Club. For many, Boxing Day consists of leftovers, hangovers and maybe some retail therapy – for me and my crew, it's go-time.
The Rolex Sydney Hobart Yacht Race or the Everest of Sailing as it's known is the longest and most gruelling ocean race in the world and so naturally, I had to be a part of it. This year was the 75th running and the third largest assembly since its inception in 1945. Stretching across 628 nautical miles, the race is not without its fair share of tragedy. In 1998, it claimed the lives of 6 participates and 5 vessels with some of the most dangerous racing conditions in history.
8.10am
While it may seem to spectators like we just show up and give the boat a quick once over and off we go, this couldn't be further from the truth. With 1998 still firmly in everyone's minds, safety is our only priority as we approach the starting line.
To prequalify for the Sydney Hobart, both the boat and the crew must have successfully completed various offshore races exceeding 24 hours at sea (as well as in my opinion be at least partially insane). This year we were one of 157 boats heading out into the Tasman Sea for 3+ days of chaos.
As we board our Sydney 47' called the appropriately titled 'Wot's Next?', me and 12 crew members get to work checking and double checking EVERYTHING ready for the audit carried out by the race committee. No one wants to be disqualified for some out of date saline solution at the bottom of the medical kit.
11:00am
Did someone day beer?
With checks out of the way we take a moment to enjoy one last cold one with the whole extended sailing family.
12.50pm
T-minus 10 minutes.
The energy and anticipation spill out from all the boats and is carried out through the spectators and helicopters above. The 157 participating boats are split into 4 start lines. First up we have the Maxi yachts, followed by the medium size vessels (our starting line!) and then the smaller boats and finally the cruising boats in the final line.
It's a melting pot of emotions in the final minutes before we set sail.
Nerves are tingling, heartrate is up, heighten awareness, boats everywhere, you have to yell to be heard, dry mouth and emotions running wild… it's just bloody awesome.
1:00pm
We are off.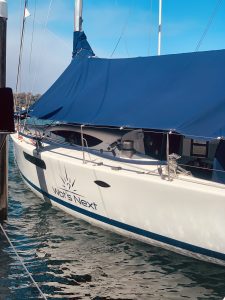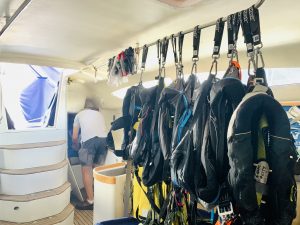 You can imagine the pandemonium as we all frantically try to get out of the Sydney Heads, leaving behind the spectators and the security of the Marina. I would be lying if I said that it was all excitement and no nerves. The reality is that this voyage is dangerous, and anything can happen out there.
Hour one is about settling into our routine. We were so lucky that this year brought fine weather and no rain which takes some of the stress off (but not all). You never know what lies ahead and for the next 3 days had to be on – even if we were off.
5:00pm
As the sun goes down and the thermals come out, the 2 x 2 x 2 rotation is in full swing. If you're looking for a full night sleep or a shower before bed, then maybe the Sydney Hobart isn't for you… For the next 3 days we follow 2 hours 'on', 2 hours 'off' and 2 hours 'standby' system. This can be broken at any time if we require all hands-on deck.
'On' means you are currently responsible to sailing the boat. We have to be on high alert and keep the vessel on course of the duration of your shift. 'Off' is sleep time (yay!), but we don't get too comfortable as its only for two hours. After our 'off' shift we are on 'standby' meaning that we are present on deck, ready to assist at any moment. We also become the on-board butler service making sure the guys that are on stay hydrated and sustained throughout the shift. My coffee making skills are coming along nicely!
12:00am
At this point all concept of time has gone completely overboard. We follow our shifts and distance to destination over the clock. When the sun comes up, brekkie is served and when the sun goes down, we start dinner. Other than that time doesn't hold much importance.
As of this moment the race record is 1 day, 9 hours, 15 minutes and 24 seconds. While we weren't likely to smash that record, the favorable weather conditions meant that we were making good time. The year prior we saw in excess of 50 knots of wind and substantial seas (not hat wearing weather) but thankfully this year we didn't see it rise above 30 knots.
Day 2 & 3
Eat.
Sleep.
Sail.
Repeat.
That's how the saying goes right?
29th December 2019
3:00pm
With just under 50 miles before we cross the finish line, once again it's all hands-on deck. Exhaustion mixed with excitement creates a euphoric adrenaline that fills the boat but it's not over yet!
After spending over 3 days out at sea with little more than the clothes on our back, we brace ourselves for the spectacle that awaits at Hobart. As we inch closer and closer, the exhaustion fades completely as the finish line is now in site.
It's not ever yet!
800m.
700m.
500m.
200m.
Stop the clock.
4:47:32pm
'Wot's Next' crosses the finish line placing 5th in division 2 and 53rd overall beating our previous time by 11 hours.
I wish I had more to tell you about this moment, but the truth is its mainly a blur. One thing I can say is that it doesn't matter if it's your first finish or your 10th, this moment is what makes it all worth it. The overwhelming sense of pride in the crew something that cannot be replicated.

Hobart – 6:00pm
The celebration kicks off at the one and only Customs House Hotel. You better believe the beers are flowing and don't stop until the wee hours of the morning. As much as I love being on the water, it felt so good to have my feet firmly planted on dry land.
As we swap war stories with the other crews, reality starts to set in that another race has come to an end. Not to worry though as preparations for next year's event start as soon as we return to Sydney.
No rest for the wicked!
***Sometime in the early hours of the evening…***
As a man in his 50's, I have had many wonderful experiences in my life but let me tell you there is no greater moment than when your head hits the clean hotel pillow after spending the last 4 days on a boat with 11 other men. Except maybe the hot shower you take before your head hits said pillow.
Clean and asleep at last, the smile didn't leave my face the whole night.
To cross the finish line in a Sydney Hobart race is something that I had dreamt about as a little boy.  Every year I'd watch the start on TV or be on the Harbour watching the boats head out to sea.  All the while, knowing deep down, that I'd somehow make myself good enough to get on a boat one day and make it all the way to Hobart.
The day I actually did it in 2018 at a ripe old age of 53 year, my eyes filled with pride, goose bumps covered my entire body and my emotions let go.
My dream had finally come true.
I'd conquered my Everest.