Looks like it wont be too long before we can be thinking about relaxing on a tropical island again after what seems like forever. While we are waiting, why not bring the chill vibes aboard with a tropical themed lunch that will take you right back to the beach. This year has been all about getting creative with our experiences while we are grounded and there is no better way to wow your guest than through food. If you're looking for some inspiration for your next meal on board, look no further than our summertime tropical feast!
Who doesn't love a tasty cocktail to cool down in the summer months? Coconut, mango and splash of rum make this recipe the perfect tropical beverage to kick things off.
This cocktail is perfect for on board and it requires very little effort. Add all the ingredients into a jug and stir. It's simple, delicious and beautiful.
Cocktail – Tropical Coconut Rum Punch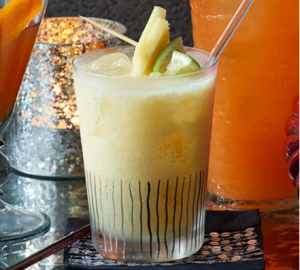 Ingredients
500ml pineapple juice
500ml mango juice
250ml Malibu rum
250ml coconut milk
To Serve: Sliced pineapple & limes on a skewer
Directions
Put all the ingredients in a jug, mix well and chill.
To serve, add ice to glasses, pour over the rum punch and decorate with pineapple & lime skewers.
Starter – Blackened Prawn and Avocado Cucumber Bites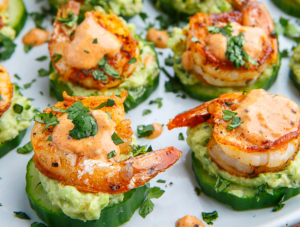 What we love about this recipe is that majority of it can be done in advance. Everything can be prepped before you head out on the boat so that all that is left to do when you're ready is cook the prawns and assemble. The flavours are simple yet complement each other perfectly and are just enough to get you through to the main.
Ingredients
Prawn and Cucumber Bites:
1 tablespoon oil
1 tablespoon Cajun seasoning
450g prawns, peeled and deveined
1 cucumber, sliced
Avocado sauce:
1 avocado, mashed
1 green onion, thinly sliced or chopped
2 tablespoons cilantro and/or parsley, chopped
1 tablespoon lemon juice
salt and cayenne to taste
Directions
Blend all avocado sauce ingredients together. (Option: Use your favourite guacamole instead of this avocado sauce.)
Toss the prawns in the oil and the seasoning and BBQ until slightly blackened, about 2-3 minutes per side.
Assemble the bites with cucumber slices, topped with avocado sauce, prawns.
 Main Course – BBQ Jerk Chicken Wings & Pineapple Rice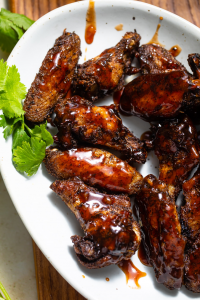 Oh yes, this dish really is as good as it sounds. Jerk Chicken is a staple in Jamaican cooking and is packed full of flavour. Like the starter this dish is perfect for dining on board as it can also be prepared ahead of time. We recommend marinating the wings overnight to release all the flavours before cooking on the barbeque.
Ingredients
24 24 chicken wings
Jerk Seasoning
1 bunch Chives
1 small head Garlic
1 small Onion
Thumb-size piece Ginger
1/2 bunch Thyme (I use leaves and stems)
Habanero – Depends on you and how hot you want it
1 -2 tbsp Lemon juice
1/4 tsp Cinnamon
1/4 tsp nutmeg
1 tbsp black pepper
1 tbsp Red chilli flakes
1/4 Oil (Use one that doesn't have a taste like Vegetable) Add a bit more if seasoning is too thick
BBQ Sauce
1 cup bbq sauce of your choice
1/4 cup ketchup
1 tbsp rum
Dash of hot sauce (optional)
1 tbsp soy sauce
1 tbsp brown sugar
1/2 cup coke
Directions
Prepare the Jerk seasoning: Blend Everything. ** You may have some seasoning left over it remains well in the fridge for about 2 weeks and you can use it on any meat/seafood.
Prepare the BBQ sauce: Whisk all ingredients together until combined.
Marinate Wings in about 1/2- 3/4 cup Jerk Seasoning and salt to taste for a minimum of 1 hour. (Preferably overnight) **Remember the more seasoning the hotter the chicken will be
Preheat oven at 400˚F. Spray baking trays with a non-stick spray and lay wings in a single layer. Bake for 20 mins, brushing wings with bbq sauce every 20 mins. Alternatively cook on the BBQ. When wings are cooked remove and toss in remaining bbq sauce.
Top with chopped scallions and serve.
Pineapple Rice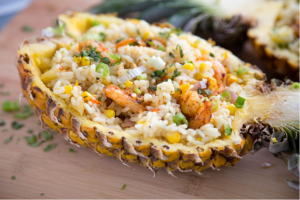 This dish is as tasty as it is beautiful. The Cajun seasoning packs a punch and goes perfectly with the flavours of the chicken. Prepare before you leave and pop in the microwave to reheat on board.
 Ingredients
1 pineapple split and hollowed out (save pineapple)
80g corn kernels (fresh or frozen)
40g red capsicum
80g onion diced
165g pineapple diced
2 cups of uncooked rice
Chicken stock (for rice)
2 tablespoons coriander finely chopped (garnish)
2 tablespoons of butter
2 tablespoons olive oil
Salt and Pepper to taste
Green Onion (garnish)
3 tablespoons Cajun seasoning (If you are looking for a mild version you can use paprika or your favourite seasoning.)
Directions
Split pineapple down the middle to create two pieces
Hollow the pineapple pieces being careful not to puncture the skin. This is easier if you do it in sections ensuring that they can be cut into cubes later.
Remove the core from the pineapple and discard.
Cook rice according to packet instructions using the stock to boil. When warm season with Cajun seasoning.
Sauté corn, onion, peppers and pineapple in butter for about 6 minutes or until the onion is cooked.
Mix cooked rice with pineapple mixture.
Fill pineapple halves with mixture.
Garnish with coriander and serve.

Dessert – No Bake Lime Pie
It wouldn't be a tropical feast without something sweet and fresh to finish things off. With no baking required it is super easy and needs to be made ahead of time, so it has time to chill. Make it the night before and you're good to go!
We recommend garnishing just before you serve.
 Ingredients
2 cups pecan shortbread cookies, crushed
1/3 cup butter, melted
4 cups heavy whipping cream
1/4 cup confectioners' sugar
1 teaspoon coconut extract
1 package (8 ounces) cream cheese, softened
1 can (14 ounces) sweetened condensed milk
1/2 cup lime juice
1/4 cup sweetened shredded coconut, toasted
Optional: Maraschino cherries with stems and sliced limes
Directions
In a small bowl, mix crushed cookies and butter.
Press onto bottom and up sides of a greased 9-in. deep-dish pie plate.
In a large bowl, beat cream until it begins to thicken. Add confectioners' sugar and extract; beat until stiff peaks form.
In another large bowl, beat cream cheese, condensed milk and lime juice until blended. Fold in 2 cups whipped cream.
Spoon into prepared crust.
Top with remaining whipped cream; sprinkle with toasted coconut. Refrigerate until serving, at least 4 hours. If desired, garnish with cherries and limes.
Enjoy these fabulous Summer treats!!