Introducing our brand-new Pacific 44's!
We couldn't think of a better way to round out 2019 than with the launch of our new Pacific 44's that are set to join our growing fleet in late December. In the usual 'new year, new me' fashion, our team in collaboration with the all-star Q-service team at the Quays Marina has been working day and night over the last 6 weeks upgrading our new middle-class cruisers just in time for the New Year. The two new vessels – Pacific 22 and 23 house all of the premium amenities currently enjoyed on our Pacific 44's with a couple of new finishes at the suggestion of our members.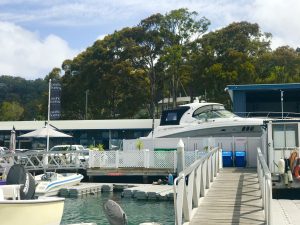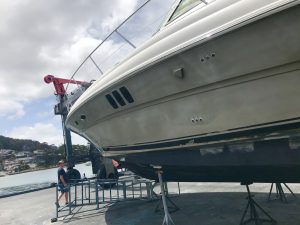 Keeping this all under wraps has been more difficult than finding a carpark at Westfield the week before Christmas but as the second boat hits the water next week, we thought we'd give you a sneak peek into the two newest members of the PB family.
Bye bye carpet hello timber!
With entertaining in mind, we made the decision to axe the carpet in the cabins and replace them with custom timber flooring for a fresh new look. Feedback from our members made this an easy decision for not only the aesthetic but maintenance and cleanliness too. The new floors brighten up the room and create a modern space that lends itself perfectly to entertaining and families with little ones.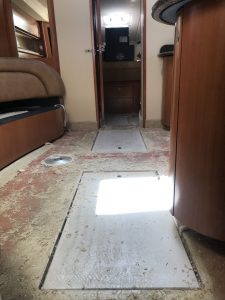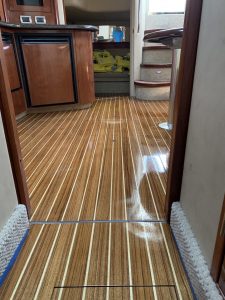 A seat fit for a king (or captain)
As the captain of your vessel, we think you've earned the right to a sweet set up as you lead your family and friends on their next adventure. Featuring white leather upholstery with black trims, the upgraded cockpits are fit for a king! Like the cabin, carpet has been replaced with sleek ivory flooring that create the ultimate zen when you're navigating through Sydney's waterways.
It's all in the hardware
It's not in our nature to just throw down some new floors and call it a day. Not only did we give our vessels a bit of TLC from the outside, we went the full 9 yards and upgraded the operational systems too starting with the controls. Pulling out the old dual control and replacing them with single ones means that our new Pacific 44 are even easier to handle and is conducive to all experience levels.
Our existing navigation system has been replaced with the state-of-the-art touch screen Simrad that is extremely user friendly and guaranteed to get you where you want to as quickly and easily as possible. With an extensive range of features available at your fingertips, you can head out on the water knowing that this fine piece of technology has your back.
Safety & Protection
It's all in the details and our covers are just as important to us as everything else. Our new 44's have brand new front clears and camper covers so your vessels is being taken care of when you're back on land. Rain, hail or shine these bad boys will protect your boat through it all while keeping in line with our classic PB style.
The boats have also been entirely re-wired to ensure the safety of you and your guest. We maintain the highest safety standard across all of our vessels which are constantly being tested and improved. We stress so you don't have to with our on-site team of professionals who have gone above and beyond to secure all fixtures.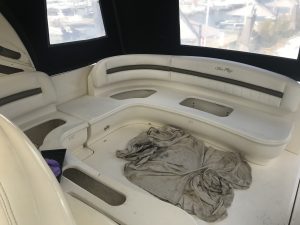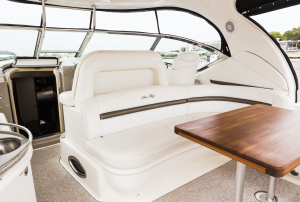 While the pictures give you a snapshot of what you can expect from the newest of our fleet, we welcome anyone and everyone to come down and check them out in person. New memberships for the Pacific 22 and 23 are now available and with the summer season just beginning there are so many balmy summer nights ahead of us just begging to be spent on the water.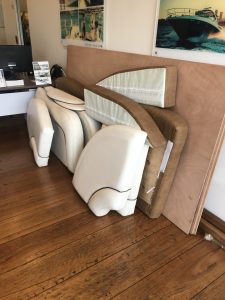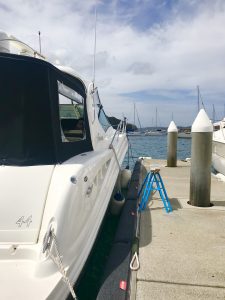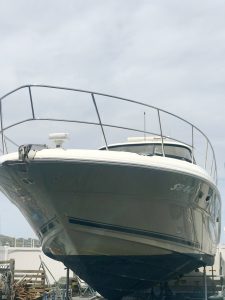 For more information of our memberships, head to https://www.pacificboating.com.au/how-it-works/